Employee Spotlight
September 2017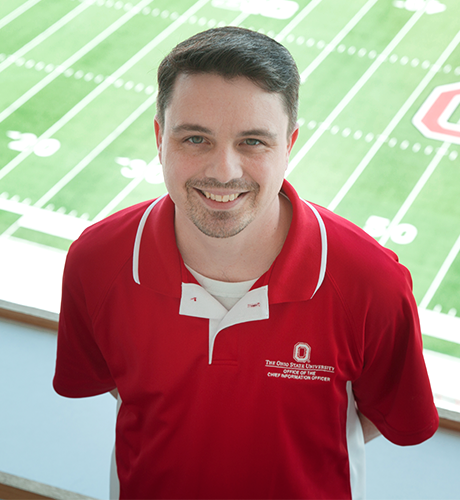 Senior Help Desk Technician
This customer service superstar has been with us for 20+ years. His dreams of becoming a sports broadcaster nearly come true every fall when he works with ESPN, the Big Ten Network and others to prepare Ohio Stadium for football festivities. Outside of work, this family man can be found spending time with his wife, two children and new furry edition to the family—a puppy named Zeke!
Q: What is your role at the university? Senior Systems Specialist, Help Desk Technician
Q: How long have you worked at Ohio State? I arrived at TNC 23 years ago!
Q: What are you currently working on? Currently, a lot of my time is spent on the Skype for Business project. I'm involved in migrating our current customers to the new service. This time of year also affords me the opportunity to work with the likes of ESPN, ABC, Big Ten Network, and many others as we prepare for the new football season in Ohio Stadium.
Q. What does a typical day look like for you? A typical day for me is spent processing all the phone/data/catv/wireless requests our customers send to us.
Q: What do you like best about your job? Being here so long has given me the opportunity to develop many relationships throughout the campus community. I also enjoy interacting and collaborating with all the fine people of OCIO!
Q: Did you always know this is what you wanted to do as a career? I always wanted to be a sports broadcaster. I had an internship my sophomore year at WBNS Sports radio…that was about as close as I got.
Q. Why did you choose to work at Ohio State? I was destined for Ohio State. :) Both of my parents worked at the Mansfield Campus. 
Q. Of what are you most proud? Other than my family, I'm most proud of my Communications Degree from Ohio State (1996).
Q: Can you tell us about your family? I've been married to my wife, Nicci, for 14 years. We have two children, Kaylee (17) and Austin (13).
Q. What do you do for fun outside of work? Do you have any hobbies? Most of my time these days is spent hanging out with my family and taking care of our new family member, Zeke, a 9-month-old Mini Bulldog!
Q. What kinds of things are you passionate about outside of work? I'm as big a Buckeye football fan as you can get. I look forward to tailgating and going to the games every year.
Q: What is something most people might be surprised to know about you? When I first arrived here at Ohio State as a student, I was the shuttle driver for UNITS. I would drive our employees wherever they needed to go on campus.
Q: Favorite place to eat in Columbus? Hofbrauhaus. My wife was born in Germany and turned me on to this place. We're actually going to Germany next month, so it will be interesting to compare the food.
Q: Best concert you've ever been to? We saw Blink-182 a few weeks ago. It was the first concert my teenage son has ever been to and we had so much fun! 
Q: Do you have a favorite book or movie? Shawshank Redemption. It was filmed in my hometown, Mansfield, OH.
Q: It's 9 p.m. on a Saturday. What are you doing? I'm a sports freak, so I'm most likely watching some type of sporting event.
Q: Give three adjectives that best describe yourself. Kind, polite and loyal.