Employee Spotlight
December 2019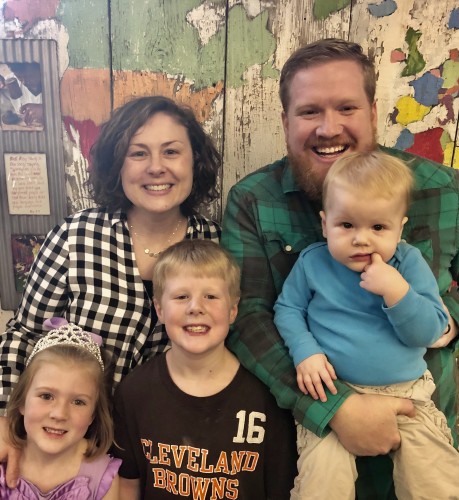 Program Manager, Learning Technology
Meet Scott, a learning technology program manager whose day-to-day life involves prepping students for college—whether they are still in high school or just arriving on campus and receiving their Digital Flagship iPad. This former Special Education teacher loves to play, explore and dance around constraints to innovate new solutions and learning strategies. Faith and family are very important in his life, as well as smoked meats of all varieties. Outside Mount Hall, you'll likely find him at Swenson's or anywhere with great food.
Q: What is your role at the university? I manage a grant called College Ready Ohio that partners with a number of school districts and regional service providers from around the great state of Ohio. I'm also a part of the Digital Flagship team, working on teaching our students digital skills and ways they can use their iPads for their courses.
Q: How long have you worked at Ohio State? I've worked at ODEE for four years. Therefore, I've worked at Ohio State long enough to know what it is like to work from St. John Arena, which in my mind was actually pretty fun.
Q: Have you worked on any large projects since you've been here? Working on the Digital Flagship project has been a really fun way to interact with students and work to provide them with skills that they could use for their current studies and hopefully much later in their lives as well.
Q: What do you like best about your job? I really enjoy experimenting with new technologies and figuring out how they can be used in meaningful ways for teaching and learning. I also love working with students and staff to solve problems and come up with ways they can do innovative things themselves.
Q. How do you create and innovate? I create by taking the time to play and explore a technology or app. When I get stuck, I do research and then start over. I feel like I innovate two different ways:
With open exploration/play: I love to just play with something and reflect on past experiences to create possible activities for students to showcase their learning.
With constraints and problems: To me, constraints are the most powerful because I feel like they help me access the deepest parts of my brain to find solutions. Since I regularly flood my brain with information about education, technology, sports and TV shows like Arrested Development, I have a pretty deep "file vault" to choose from. If I ever feel stuck with the constraint, at the very least I can tell a few jokes to lighten the mood.

Q. How did your career path bring you to work for us? Prior to my time at the Office of Distance Education and eLearning, I was a Special Education teacher in a middle school in North Carolina and then a high school Maryland. While in Maryland, I also moonlighted as an Apple Store retail employee. Fortunately, those positions eventually brought me right where I am today!
Q: Where did you go to college? I went to college in God's country, Athens, Ohio. I spent seven great years at Ohio University (two degrees…thank you very much). My undergraduate degree is in Sociology/Criminology and my master's is in Special Education. It is not uncommon to see me discussing the hills, Court Street, O'Bettys and Burrito Buggy with the many other OU graduates that work in Mount Hall.
Q: Where are you from originally? I grew up north of Akron, Ohio in a city called Hudson. Because of this, I have an irrational love of Swenson's Drive-In, Geauga Lake, Cleveland sports, The Black Keys and snowy weather.
Q: What is your favorite place to visit? I really just like to visit places based on their food. Anywhere I can get good gourmet hotdogs, sausages or smoked meats, I tend to try to convince my wife we need to visit there.
Q: Can you tell us about your family? My wife, Arin, is so kind, hilarious and well organized. We have three (usually) awesome kids. Our oldest, Elijah, is obsessed with all sports (including fighting robots) and he is the protector. Abigail is the comedian and performer. Micah is equal parts happy, curious and smelly.
Q. What do you do for fun outside of work? Do you have any hobbies? I spend most of my time playing and laughing with my wife and the three little ones. Besides that, I love playing recreational games, doing Crossfit, watching sports and cooking with fire, smoke or vats of grease.
Q. What kinds of things are you passionate about outside of work? My faith is important to me, as well as loving people, especially those who are often overlooked in our society.
Q: What is something most people might be surprised to know about you? I've won a handful of dance offs in my lifetime, including at college parties, weddings and even once with my server at a Denny's restaurant. Unfortunately, I still had to pay for my meal.
Q: Favorite place to eat in Columbus? I love food, so I can't just give one. My favorite places to eat in Columbus are Dirty Frank's Hotdog Palace, Ray Ray's Hog Pit and Brenz Pizza Company.
Q: Best concert you've ever been to? I've been to a lot of concerts, but the most interesting concert was when I was working concert security in Baltimore, Maryland. Michelle Obama (and a plethora of secret service members) discreetly attended a Ledisi concert in 2014. I was assigned to backing up the secret service in extracting First Lady Obama from the concert (aka holding people back). Not all heroes wear capes folks, some just have red beards.
Q: Favorite quote? "The face of a child can say it all, especially the mouth part of the face." – Jack Handey
Q: Do you have a favorite book or movie? Wes Anderson's The Life Aquatic with Steve Zissou is my favorite movie. I love Wes Anderson's directorial style and the dry humor. It's Bill Murray, Owen Wilson, Willem Dafoe and Anjelica Huston at their best.
Q: It's 9 p.m. on a Saturday. What are you doing? I'm usually either scrolling through movies to stream with my wife without ever agreeing on one… or I'm watching college football/basketball.
Q: Give three adjectives that best describe yourself. Positive, witty and creative.