Employee Spotlight
November 2018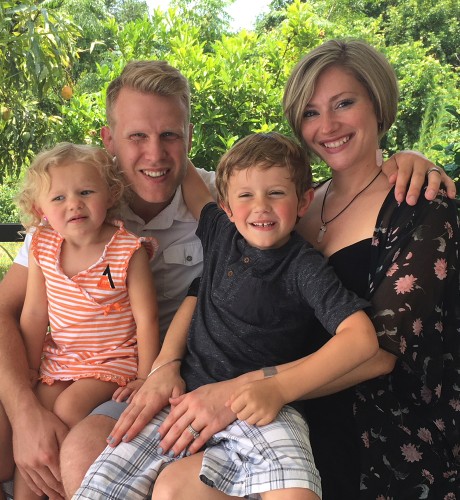 Instructional Design Video Coordinator
Meet Scott Nelson, a video coordinator OTDI. This former golf caddy loves forming partnerships with faculty and working towards the goal of more engaging course content for students. While Ohio State isn't the Blue Angels, Scott does enjoy the fast-paced work environment and the ability to try new and exciting things. Outside of Mount Hall, you might find him at church in Powell or staying in to enjoy his wife's cooking.
Q: What is your role at the university? My title is Instructional Design Video Coordinator, which means I get to work with our awesome faculty who are building online courses for online programs. I get to help them think through how to create multimedia in those courses to make them more interactive. I work closely with our instructional designers and media services teams with the ultimate goal of creating engaging and effective content for our online courses.
Q: How long have you worked at Ohio State? I've been at Ohio State for a little over 6 years.
Q: Have you worked on any large projects since you've been here? I've worked on the College Ready Ohio Grant, Science Olympiad and the Innovate conference. I was also asked to set up a FaceTime call with the Board of Directors and Apple executives—it's not necessarily a big project, but was an interesting challenge that I enjoyed working on.
Q: What do you like best about your job? I would definitely say working with the faculty. I get to interact with them and learn about what their teaching, which is always very interesting to me. And then when I tell them what we can do, they get so excited. It's a great partnership and relationship—I really get to know them and what they are doing for our students at the university as well as how they are benefitting the community outside the university.
Q. How do you create and innovate? I observe what's going on in the industry and try to pull that into the work I do. Being at a university means I'm always learning. Our organization empowers us to try new things, without fear of failure, so I'm always trying new things and refining them as I learn.
Q: Did you always know this is what you wanted to do as a career? I always wanted to be a Blue Angel pilot. Clearly that didn't work out for me, but I love excitement and I always wanna go fast (like Ricky Bobby). The speed and elegance of the Blue Angels is just impressive and I like to think I bring that drive into my work.
Q. How did your career path bring you to work for us? I was creating educational videos for people with disabilities for the Nisogner Center. We were looking into eBooks and iTunes U and I learned about this newly forming department, ODEE. You could say the team in ODEE lured me in.
Q: What was your very first job? I was a golf caddy at a country club.
Q: Where did you go to college? I went to Marietta College in Southeast Ohio.
Q: Where are you from originally? AK Rowdy Rowdy, North Side Summit County (Akron, Ohio)
Q: If you could travel anywhere in the world, where would you go and why? I would love to go to Dubai and just see the architecture and the technology.
Q: Can you tell us about your family? I've been married to my wife Becky for five years and we have two kids. Liam is 5 and Ava Grace is 2 and a half.
Q. What kinds of things are you passionate about outside of work? Becky and I just helped launch a church in Powell, and that's a project we're very passionate about. It's been very stressful, but also a lot of fun.
Q: What is something most people might be surprised to know about you?  I graduated with Lebron James and we played football together. I played football in college and I was also a cheerleader. Ask me about my tumbling and stunting.
Q: Favorite place to eat in Columbus? My wife's kitchen. I would take her cooking over a restaurant any day.
Q: Favorite quote? "I wanna go fast." – Ricky Bobby, Talladega Nights
Q: Give three adjectives that best describe yourself. Enthusiastic. Encouraging. Creative.