Employee Spotlight
December 2020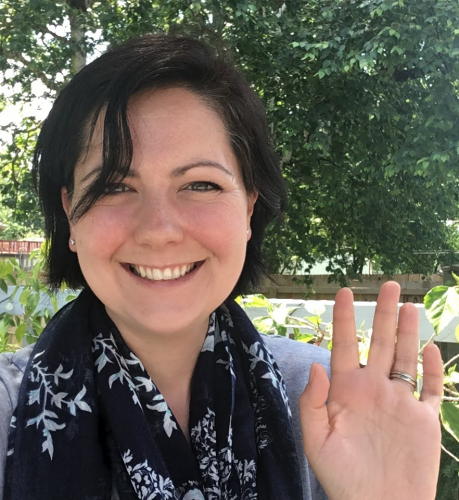 Meet Sarah, an instructional designer who has been teaching and supporting teaching for over a decade at Ohio State. As a child, she had high hopes of becoming a professional reader, but getting to read up on learning and technology to better support our teachers is the next best thing! She loves the variety of tasks in her work, and the only "typical" part of her day is the amount of passion shared among colleagues and collaborators. When you run into her next on Zoom, ask her about being mistaken for Sarah McLaughlin.
Q: What is your role at the university? I am an instructional designer (ID) on the Digital Education team at ODEE.
Q: How long have you worked at Ohio State? More than 10 years! I started as a GTA and have been lucky enough to take on all kinds of roles teaching and supporting teaching since then.
Q: Have you worked on any large projects since you've been here? I'm proud of working on many experiences for instructors to learn more about teaching and learning. Most recently, I helped create our Introduction to Teaching Online course that has helped several hundred instructors incorporate evidence-based practices into their online teaching during the COVID-19 pandemic.
Q: What does a typical day look like for you? One of my favorite things about my role at ODEE is there really isn't a typical day! I might have a collaboration meeting with instructors from Nursing in the morning and then work on a workshop for the entire university in the afternoon. The next day I'm writing resources about online teaching for our webpages and then meeting to support our Associate IDs and then building assignments in Carmen.
Q: What do you like best about your job? My most favorite thing about this job is the people I get to work with. I love the passionate instructors I get to collaborate with, our talented media creators, my generous peers and colleagues. Ohio State really does have the best people.
Q. How do you create and innovate? I try to listen to a wide variety of voices. I read K-12 teacher blogs, international voices from higher ed, civil rights activists, STEM researchers and pop stars… anyone thinking about technology, online spaces and the needs of learners is welcome in my reading list! This helps me draw from a deep box of ideas and approaches in my own work.
Q: Did you always know this is what you wanted to do as a career? No lol, I didn't even know instructional design existed until a few years ago. When I was a little girl, I wanted to be a classical flutist and a full-time reader. Honestly, that still sounds great, so if anyone sees a job posting for getting paid to only sit and read good books, please let me know.
Q. How did your career path bring you to work for us? I grew up in a family of teachers and I always said I was never going to do that. I tried careers as a musician, archaeologist and dental anthropologist. Then I actually got a job as an anthropology GTA in grad school and fell in love with teaching. I loved it so much I started helping other people with their teaching, and ultimately became a faculty developer. My interests and skills in course design and inclusive online learning made the leap to instructional design a natural fit.
Q. Why did you choose to work at Ohio State? My mom is a Buckeye, I got my undergrad degrees here, and returned for grad school. My kids were born in the Ohio State hospital. It just feels like home for me.
Q: What was your very first job? I handed cigarettes and beer out a drive up window at a carry out in Portsmouth, OH. I was 17. It was definitely legally questionable.
Q: Where did you go to college? I had a winding and expensive path through my degrees- Shawnee State, Otterbein, Columbus State, Ohio State, McMaster University, and back to Ohio State.
Q: Where are you from originally? I grew up moving around a lot. I was born in rural New York but lived in Maine, Columbus, Cincinnati, Missouri, Louisville, Lisbon, several places in Canada, and Portsmouth, OH.
Q: If you could travel anywhere in the world, where would you go and why? New Zealand. I want to see glow worms and penguins.
Q: Can you tell us about your family? I have two daughters, Esmé and Phoebe, and my husband Josh and I have been friends since I was 14. We have a grouchy cat and a derpy dog.
Q. What do you do for fun outside of work? Do you have any hobbies? I am a Girl Scouts leader and that's a lot of fun! I love to take long walks, cook, and hang out with my family.
Q. What kinds of things are you passionate about outside of work? I'm really passionate about social justice and community engagement. Before COVID I did a lot of volunteering with groups in Columbus dedicated to helping with literacy, food access, and civil rights.
Q: What is something most people might be surprised to know about you? I used to be in a band that had a record contract with a major Canadian label that also represented Sara McLaughlin. When I made phone calls and said it was Sarah calling, they sometimes thought I was her, which led to some surreal misunderstandings. I made zero dollars from this experience.
Q: Favorite place to eat in Columbus? So many great places to eat here- lately anywhere at the Japanese Marketplace: Ten Sushi, Belle's Bakery, or Aki Hana.
Q: Do you have a favorite book or movie? It's not the most powerful or challenging thing I've ever read, but my all time comfort book that I come back to every year or so is Jane Eyre. I love the whole vibe of Victorian Gothic novels and Jane in particular never accepts what other people assume of her and perseveres to become true to herself.
Q: Give three adjectives that best describe yourself. Dedicated, empathetic, curious