Employee Spotlight
October 2022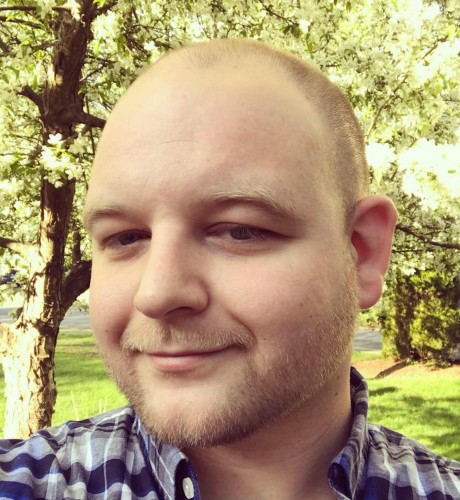 Get to know Ryan, an instructional designer in the Office of Technology and Digital Innovation. This wannabe Broadway performer always knew deep down that his career would involve teaching; and what could be better than using that creative energy to help instructors design unique learning experiences? While teaching courses on video game analysis, Ryan kept turning to coaching and collaborating with other instructors, and he was thrilled to learn that there's a job for that! Off the clock, you might find Ryan playing video or table-top games to stay connected with friends and colleagues.
Q: What is your role at the university? I'm an instructional designer (ID).
Q: How long have you worked at Ohio State? I started my current role in May of 2020. I initially came to Ohio State in 2015 as a full-time graduate student and GTA, where I designed and taught courses in writing, rhetoric, disability studies, and video game analysis (I wrapped up my PhD in English in May of 2021). So, all told, I've been here for about eight years.
Q: What are you currently working on? What does a typical day look like for you? What I'm working on and what my typical day looks like changes depending on the semester and time of year. I'm answering these questions after kicking-off all my Autumn course design projects. Most of my day is spent preparing and debriefing from intensive brainstorming meetings with instructors hoping to design or revise an online course. Otherwise, I'm supporting some initiatives around VR and simulation-based learning with several of my colleagues.
Q: What do you like best about your job? I love that I'm always learning new things. I get to work with instructors from all parts of the university, and a big part of my job is asking them to explain their expertise to novices. These questions not only help me design accessible courses, but I also get a glimpse into all kinds of specialized knowledge. Since joining the team, I can now tell you what a PICO question means in healthcare, the basic principles of cybersecurity, current trends in data visualization…the list goes on!  
Q. How do you create and innovate? I describe my creative process as "careful, collaborative, and strategic," which I attribute to my investment in DEIJ and accessibility. I love creating new opportunities or refining processes so that we can serve diverse users, and I strive to start every project with considerations that center historically marginalized groups and perspectives. I also love working with other people and being a part of a team.
Q: Did you always know this is what you wanted to do as a career? As a child and young adult, I wanted to be a famous singer and performer on Broadway. I was the quintessential theater kid who spent most days in the music wing of the high school. But deep down, I always sensed that my career would involve teaching: I love working with other people and helping them achieve their learning goals. So, it's unsurprising that I ended up as an ID, which flexes all my creative muscles to make learning experiences. My only regret is that I didn't know what it was sooner.
Q. How did your career path bring you to work for us? I love and hate this question: I love telling my background story, but my answer is always so long! I started my time in higher education pursuing a BA in Music Performance, focusing on voice (aka. I sing). I really enjoyed supporting my peers, particularly when they needed help with writing and research tasks. By the time I finished my BA, I realized that full-time performance just wasn't my thing. I took all that experience coaching people on their writing and put it towards an MA in English, focusing on teaching writing and literature. I also gained a deep interest in queer, feminist, anti-racist, and disability studies. I came to Ohio State for my PhD to refine my teaching skills and continue my interests in DEI, with hopes of becoming a tenure-track professor. I got to teach courses on video game analysis (yes, I assigned video games for homework. It was awesome). Again, I kept gravitating towards coaching and collaborating with my peers, helping them with their teaching and lesson plans. One day, I told a colleague "I wish I could just do this full-time—you know, help instructors with their courses and remind them that they are awesome." My friend told me about instructional design and sent me a job ad for then-ODEE. The rest was history. So, I think I have quite the eclectic professional and academic background; but I can also say that every part of my education plays a role in the job I do now.
Q: Where are you from originally? Massachusetts, outside of a city called Worcester. My family still lives there, and I'm home often to visit them.
Q. What do you do for fun outside of work? Do you have any hobbies? I love video games and table-top role-playing games. Some of my most profound personal and professional experiences have come from playing games, and they help me keep connected with all the awesome people I've met over the years. Otherwise, I enjoy finding opportunities to sing/perform, reading, cooking, physical activity, and watching television.
Q: It's 9 p.m. on a Saturday. What are you doing? I am likely snuggled on the couch with my cat and/or partner playing video games or watching a television show.
Q: Give three adjectives that best describe yourself. Okay, I admit, I asked for help on this one from my partner: Flamboyant, reflective, and compassionate.