Employee Spotlight
September 2018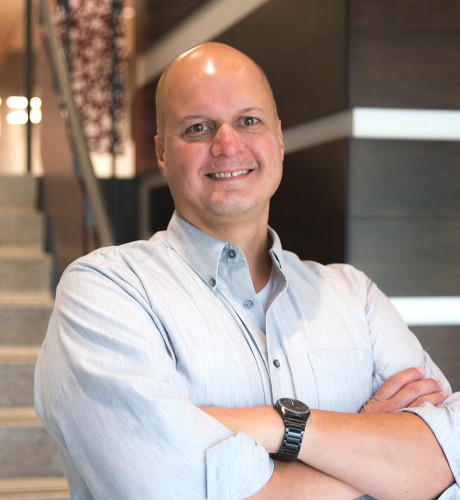 Meet Governance and Policy Team Lead Roland Kreml. This Ohio State grad has been working for his alma mater for 20+ years! He's passionate, sarcastic and hardworking, and he loves teaming up with great people and knowing he's making a difference at the university. You might find this "functional geek" at his desk in Mount or out cycling and fishing until inspiration strikes.
Q: What is your role at the university? I run the Governance and Policy team. We manage the Information Risk Management Program, which includes the ISCR, the Risk Survey (IRS) and the Self Assessment (ISSA) as well as mapping these security requirements to current and new regulations. We also manage the OCIO Policies and consult staff for compliance with the security requirements and the policies.
Q: How long have you worked at Ohio State? I have been at Ohio State on and off for 22 years.
Q: What are you currently working on? Currently my team is preparing for the new Risk Survey (IRS) and Self Assessment (ISSA) while also working on the Three and Green initiative and awaiting the next release of the Information Security Control Requirements (ISCR). Alongside of this, we answer the frequent requests for clarification from Ohio State personnel sent to the ITPolicy, IDCC and RiskMgmt emails.
Q: What do you like best about your job? I enjoy understanding the impact it has on the university as a whole. I also enjoy working in Mount Hall—good group of people!
Q. How do you create and innovate? Many of my best thoughts come to me when I am cycling and fishing. Sometimes, when I can't solve an issue or find the right answer, I will move on to let my subconscious work on it…and then it hits me…my desk neighbor has a picture of a squirrel ready when I go on these tangents! :)
Q: Did you always know this is what you wanted to do as a career? Ever since I could get my first computer, I played. I was constantly building computers or programming. I have always been a "functional geek" as a good friend has called me. However, if someone would have told me when I was 19, that years later I would write security controls, job aids and policy, I would tell them they are crazy!
Q. Of what are you most proud? One of the most difficult projects that I lead was to integrate Development, OSUAA and Communications into Advancement. We knew that staff all would need to move from building to building and expect connectivity; we knew IT needed to be ahead of the same plan and approach; support needed to be ready regardless of where they are; and we needed to consolidate, integrate and reduce costs all while mitigating risk. We were able to stay a step ahead of the business and even predict their plans through our careful planning, communication and rapport with the business. This team took my directions and made it happen. I surrounded myself with great people and great things happened.
Q: Where did you go to college? I graduated from Ohio State with a BS in CIS Engineering.
Q: Where are you from originally? I was a military brat so I have lived many places. No one in my family was born in the same state, heck, my immediate family was born in three different countries!
Q: If you could travel anywhere in the world, where would you go and why? Austria. I would love to hike the pilgrimages.
Q: Can you tell us about your family? In three months, my youngest will be an adult. Both are talented in their own specialty. One amazes me at his ability to play his trombone and my daughter amazes me with her rapport with kids.
Q. What do you do for fun outside of work? Camping, cycling and fishing are my Zen. I enjoy a "short" 20-mile ride, I could disappear for hours fishing and sitting by a fire with friends is perfect.
Q: Favorite place to eat in Columbus? Los Guachos
Q: Best concert you've ever been to? Sting playing at Polaris. He sounded better live than on CD
Q: Favorite quote? "Non nobis solum nati sumus." (Not for ourselves alone are we born.) ― Marcus Tullius Cicero
Q: Give three adjectives that best describe yourself. Passionate, sarcastic, hardworking