Employee Spotlight
December 2017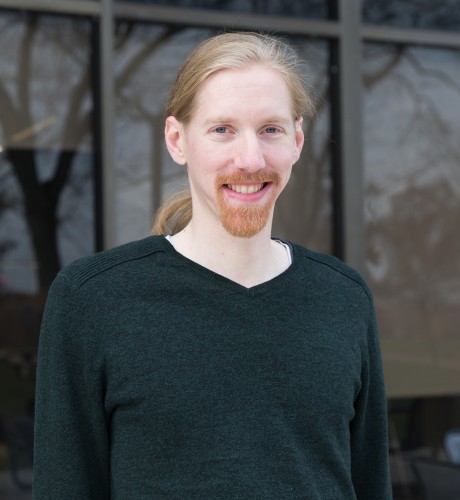 Robbie went from a student employee to a full-timer, working for the university for nearly 10 years! This Systems Administrator on the Infrastructure Team enjoys solving puzzles every day, and helping others in the process. If he's not at his desk, he may be rocking out on guitar, noshing on Asian cuisine at Akai Hana or perhaps running away to beautiful New Zealand.
Q: What is your role at the university? I am a Systems Administrator on the ODEE Infrastructure Team.
Q: How long have you worked at Ohio State? I've been at Ohio State for nine and a half years.
Q: What are you currently working on? I am currently working on AD service migration, fortifying ODEE's Wireless Display service and "keeping the lights on," or, ensuring all our existing services are running smoothly.
Q: What do you like best about your job? Each day is a little different; I get to solve puzzles and help people.
Q. How do you create and innovate? By adopting new technologies, we find new problems that did not exist before. This is an invitation for new ideas.
Q: Did you always know this is what you wanted to do as a career? Not exactly, but I've always enjoyed problem solving and have an affinity for technical hobbies. I seriously wanted to be a photographer for a while.
Q. How did your career path bring you to work for us? I started working at Ohio State as a student employee, and I really like it here.
Q: What was your very first job? Before working at Ohio State, I made pizzas.
Q: Where did you go to college? The Ohio State University (and I am still going)!
Q: Where are you from originally? Powell, OH
Q: What is your favorite place to visit? Yellowstone National Park
Q: If you could travel anywhere in the world, where would you go and why? I would go to New Zealand, because it is beautiful, and far away.
Q: Can you tell us about your family? I have two parents, two older brothers, two sister in laws, three nieces and two nephews.
Q. What do you do for fun outside of work? I do a little photography, and I play guitar as much as possible.
Q. What kinds of things are you passionate about outside of work? I am really into music, and taking in the outdoors.
Q: What is something most people might be surprised to know about you? I used to be really into mountain biking, and I even raced competitively one year.
Q: Favorite place to eat in Columbus? Akai Hana
Q: Best concert you've ever been to? I saw the Foo Fighters play an acoustic show in Toronto.
Q: Favorite quote? "In theory, there is no difference between practice and theory. In practice, there is." -Yogi Berra
Q: It's 9 p.m. on a Saturday. What are you doing? Playing guitar or hanging out with friends. Ideally both.
Q: Give three adjectives that best describe yourself. Snarky, laid back, jovial.