Employee Spotlight
March 2017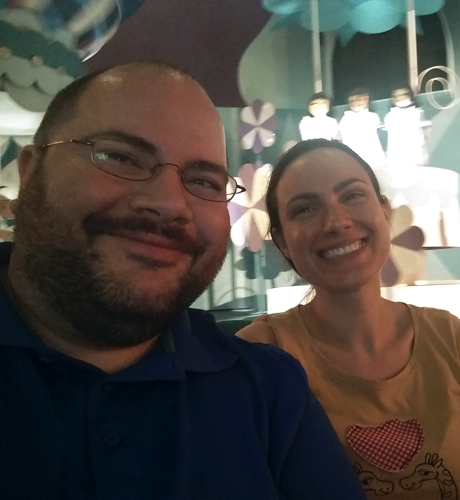 Systems Administrator III
This Infrastructure Systems Engineer works primarily behind the scenes, but he is using technology to advance the education of tens of thousands of people. NBD. He's a consumer tech geek with a passion for cameras and drones, but his IT career all started with a Commodore 64. Outside Ohio State, you might find Rick singing in his church choir or smoking meats in his backyard.
Q: What is your role at the university? I am a systems engineer with ODEE with specific focus on the infrastructure elements of delivering ODEE's services. The short version of what that means is that I get to work with some smart people, using technology and determination, to advance the education of literally tens of thousands of people.
Q. How did your career path bring you to work for us? My grandfather gave me my first computer—a Commodore 64 Executive—when I was four with (I'm fairly certain) designs of what he thought I should do. Fast-forward a couple of decades and I'd realized that dream at the University of Virginia, albeit only for a short time before my new wife would move us to Columbus so she could begin her graduate work. Once here, the first job I applied for was on campus, but they chose someone else. :( I found work with a local architecture firm, M+A Architects, for about five years before moving to another local company, DSW, where I spent a little over five years working in several roles. When a position was posted with ODEE that seemed like a perfect fit, I thought the chance to move back into education would be great, especially with my wife still being on campus.
Q. What do you do for fun outside of work? I have an affinity for board games and movies and am always looking for opportunities to enjoy either. My wife and I enjoy traveling near and far, but especially far. I also spend a fair amount of time running around with my camera and aerial camera (aka drone) catching shots of things most people don't even notice. I am also a recent hockey fan, only discovering the sport in the last five years (you have to understand what a bleak landscape of professional sports exists in where I'm from in Virginia).
Q. On what project are you currently working? Lately I'm spending time focusing on fundamental elements of ODEE's infrastructure deliverables to help grow our security, stability and sustainability through various efforts such as implementing systems management and monitoring, and creating technical and functional documentation about the systems that we deploy. It's not flashy work, but it does keep the lights on. I also support the teams working on the LMS transition to Canvas, the Scholarly Activity Management upgrade and whatever else I get asked to do.
Q. How do you create and innovate? More trial and error than I'd like to admit, and a ton of observation and research. While it's great that we live in a world where one can take to Google with a question and find seventeen ways to answer it—often correctly—finding an understanding of why one solution is the best can be a great adventure in learning. Perhaps fortunately, that process looks as different each time I undertake it as the question that started it in motion.
Q. Why did you choose to work at Ohio State? I have a strong tie to the university, so it's long been a Siren calling to me. It has been my experience that the culture of an academic setting is very different from other sectors, and that culture was something that I felt offered great value to me personally. Although there are certainly factors in play that made not coming to Ohio State appealing, the opportunity to do something that can impact so many people in a positive way, coupled with the feeling that I got during the interview process that I would really like my teammates, made it seemed like the right choice for me and my family.
Q. What kinds of things are you passionate about outside of work? Around September of every year, I get to gather with a couple dozen musicians and a couple hundred singers as my church prepares for our annual Christmas programs. Over the course of a couple of weekends, a few thousand of our friends and neighbors from around Columbus will get to experience the amazing production, and it is really remarkable how many people are genuinely impacted by what we do. I am almost embarrassingly interested about consumer technology—I spend (probably) too much time reading about everything from cell phones to home automation to automobiles and nearly everything in between. A fun byproduct of this is that many friends ask my opinions of things, giving me all the more to look into.
Q. What is the one thing that your co-workers would be surprised to learn about you? Friends convinced me a couple of years ago that I should start a food truck based around the smoked meats and sides that I would frequently bring into the office. My wife shot the idea down for obvious reasons, but I'm keeping it in my back pocket for a rainy day and/or retirement.