Employee Spotlight
January 2018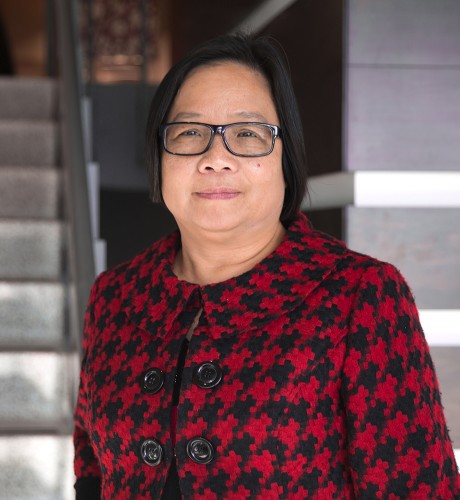 Meet Pi-Chu, a PeopleSoft Administrator responsible for keeping our systems up-to-date. She loves to troubleshoot application issues, and she feels right at home at Ohio State. This mother of two can be found dining out at Hong Kong House or socializing with friends and family.
Q: What is your role at the university? I am a PeopleSoft Administrator.
Q: Have you worked on any large projects since you've been here? I have worked on quite a few large projects: the Mainframe Y2K project, CS/HR PeopleSoft Split project, and the HR 9.2 PeopleSoft Update.
Q: What does a typical day look like for you? I focus on infrastructure middleware tasks, like the Tuxedo/Weblogic/Java upgrade and HR 9.2 PUM images upgrade. Every three months we will have a quarterly release production upgrade, which is a busy time for me.
Q: What do you like best about your job? I like to help the application team troubleshoot application issues for PeopleSoft environments.
Q. How did your career path bring you to work for us? My Master of Science degree in Math led me to a career in IT.
Q. Why did you choose to work at Ohio State? To me, Ohio State looks like my second homeland.
Q: Can you tell us about your family? I am very proud of my family. We are the first generation in the U.S. I have a lovely and talented husband who graduated from the top university of my home country. He is a mechanical/IT engineer, and we both came here for study.
I have two kids. My son is an IT engineer in Columbus with two lovely kids (girl and boy) of his own. My daughter got a full scholarship and studied for a double medical degree, MD and PhD, at the University of California at San Diego. Now she is a psychiatrist in San Francisco Medical Center and my son-in-law is a nephrologist in Stanford Medical Center. They have one very cute boy.
Q: Favorite place to eat in Columbus? Hong Kong House at Henderson and Reed Road
Q: It's 9 p.m. on a Saturday. What are you doing? Most likely I will be social with family or friends.
Q: Give three adjectives that best describe yourself. Typical Chinese, good cooking chef, like to travel and be social