Employee Spotlight
June 2017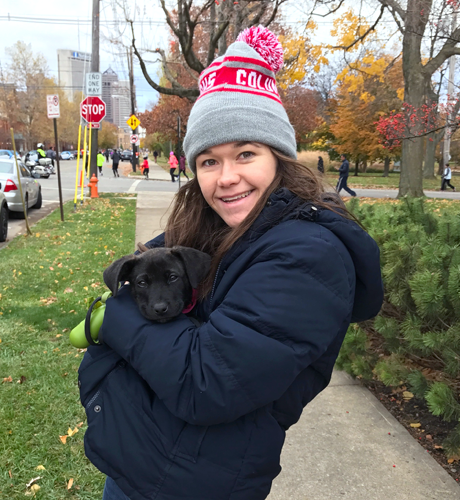 She's a Front-end Developer for our websites who helps fulfill and share the mission of the university on a daily basis. Currently, Moe is working on rebranding the Ohio State Online site where prospective students get all the information they need to start online degree programs. In her off hours, this concert goer has recently settled into the devoted dog mom role.
Q: What is your role at the university? I am a front-end developer on the marketing and communications team. In this role I spend most of my time designing and developing websites. The work that we are doing in both organizations directly aligns with the university's mission and vision and is playing a big role in enriching the educational experience for learners and leading the university into the future. As a member of the marketing team, my job is to help share this story.
Q. What do you do for fun outside of work? I run, play soccer and go to way too many concerts in my free time. However, I recently rescued a puppy, so "free time" is quickly becoming a thing of the past! She's a black lab/australian shepherd/german shepherd mix, not even a year old yet and full of energy.
Q. On what project are you currently working? As a member of the marketing team I am very fortunate to get to work on a wide variety of projects. For the past year I have focused on the web development and rebranding of Ohio State Online. The Ohio State Online site is the primary marketing site for Ohio State's online degree programs. Through this site, a prospective student can learn about the value of an online degree at Ohio State, get in contact with their program of interest and access the resources needed to get started with the application process. You can check out the site at online.osu.edu! I am also finishing up my role as Web & Design chair for this year's Innovate conference. Innovate is an annual conference hosted by our office that brings together educators, administrators and tech industry professionals to explore recent advancements, best practices, and provocative approaches to teaching and learning with technology.
Q. Why did you choose to work at Ohio State? I took a chance by applying for a graphic design position at Ohio State about three years ago and it ended up being one of the best decisions I have ever made. My favorite thing about working for Ohio State is my coworkers. I come to work everyday surrounded by a talented group of people who are dedicated to the work they are doing, who are respectful to one another and who truly believe in our university and organization's mission.
Another benefit of working for the university is the tuition assistance program that is available to Ohio State employees. Because of this program, I was able to afford to go back to school and I am currently in my final year of the Learning Technology Masters program.
Q. What is the one thing that your co-workers would be surprised to learn about you? Not sure what type of answer you are looking for here, so below are a few options…
I would like to join the 50 States Marathon Club one day. In order to join, you must run a full marathon in all 50 U.S. states. I am getting ready to run my fourth marathon this year…still waiting to get that runners high everyone keeps talking about!
I own two surfboards and have been surfing since I was 8 years old.
I have been to well over 200 concerts.