Employee Spotlight
February 2020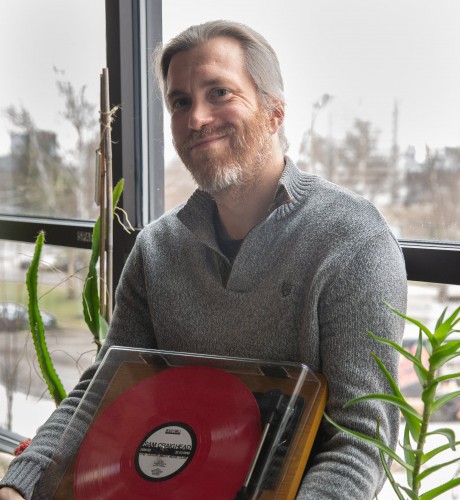 Digital Publishing Coordinator, Affordability and Access
Meet Mike, a former textbook company employee who now works to replace costly textbooks with digital alternatives. His day-to-day duties result in saving students millions of dollars on textbooks (perhaps his title should be Affordability Superhero?), and he is quite proud of his work's reach. A wannabe starving (musical) artist, Mike came to Ohio State for the pool at the RPAC, but he stayed for the chats with fascinating expert faculty. He still creates music in his spare time, as well as rectangular wooden objects. Outside Mount Hall, you may find him rock climbing in Kentucky or grabbing some grub from Pierogi Mountain.
Q: What is your role at the university? I'm the Digital Publishing Coordinator on the Affordable Learning Exchange (ALX) team in ODEE. My primary task is running the CarmenBooks program, which has saved students at Ohio State about $2 million on textbooks to date. Of course it takes a lot of people to make that kind of university-wide impact, but everything runs through me.
Q: How long have you worked at Ohio State? I've been with ALX since 2014, ironically coming from McGraw-Hill. I've been working with textbooks since 2007.
Q: What do you like best about your job? I love working with so many faculty subject matter experts and getting little insights into their unique studies. I am not a particularly smart person, but I get to talk to astrophysicists, Middle East experts, contemporary dance artists and others who are the best in the world at what they do.
I'm also really proud of the reach our program has had. We were recently looking at the Google Analytics for our Pressbooks site and found that we've had readers in every country on the planet except for North Korea, which has severe internet restrictions.
Q. How do you create and innovate? I'm a musician – in the loosest possible sense of the word. I make electronic and ambient sound works that people seem to like. There's no real money in it, but my work has been featured on NPR Music several times, as well as on more niche music sites like Pitchfork and Vice.
Q: Did you always know this is what you wanted to do as a career? As a tall kid, I was funneled towards basketball at a really young age (never played any other sports) and really wanted to play for the New York Knicks. I was sure that I was the heir to Patrick Ewing's center position but at a certain point I had the realization that I wasn't really that tall (or nearly that good at basketball) and began gravitating towards the life of a degenerate musician.
Q. Why did you choose to work at Ohio State? Honestly, it was kind of a lateral move for me, but Ohio State has RPAC and a pool and I was contemplating shifting from distance running to triathlon training. I only stuck with swimming for a minute, but I ended up loving the job and sticking around anyway.
Q. Of what are you most proud? Haven't been to jail (yet).
Q: Where are you from originally? Ashtabula, in Northeast Ohio – as I like to say "as far North and as far east as you can go" – recently featured in one of our distance ed promo videos and in a somewhat awkward Bob Dylan lyric.
Q: What is your favorite place to visit? I'm a (not particularly good) rock climber and we are fortunate enough to be close to one of the world's premier climbing locales, the Red River Gorge in Kentucky. Having a place that others travel from across the globe to visit a short drive away is really awesome.
Q: If you could travel anywhere in the world, where would you go and why? I've wanted to visit Thailand ever since reading Yukio Mishima's Temple of the Dawn in my early twenties. Not making the extra trip when I lived in (relatively) nearby Japan for a few years is one of my few regrets, but I was also dead broke at the time, so I don't beat myself up about it too much.
Q. What do you do for fun outside of work? Do you have any hobbies? Outside of the recreational activities mentioned above, I like woodworking. I've made some benches as well as cases for my synthesizers and an amplifier cabinet. I haven't graduated past the rectangular objects level yet, but I like putting things together from basic, often "scrap," pieces – not unlike building a program from the ground up here at The Ohio State University.
Q: Favorite place to eat in Columbus? Hard to pick one, but I have a real soft spot for the Pierogi Mountain at Wunderbar in German Village. The namesake pierogis are of course amazing, but the sauerkraut balls and mushroom stroganoff are my personal faves.
Q: Best concert you've ever been to? I've been to so many that picking a single experience would be really difficult, but when I was in high school I saw Beck do a backflip on stage and 23 years have passed without anyone rivaling that in terms in pure showmanship.
Q: It's 9 p.m. on a Saturday. What are you doing? I'm either in a dingy bar watching a band (or a guy behind a pile of electronics) or on my couch watching a movie.
Q: Give three adjectives that best describe yourself. Tall, Quiet, Herbivorous