Employee Spotlight
July 2019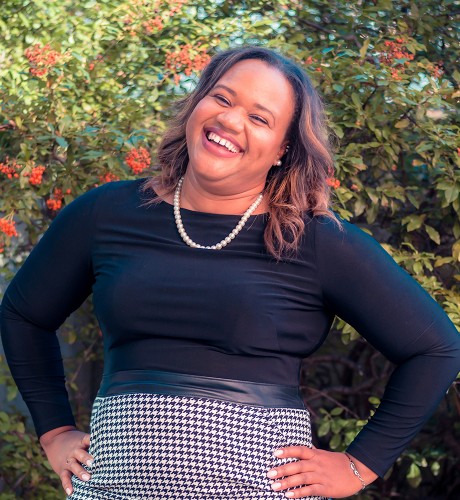 Meet Lauren, who works behind the scenes of our staff training platform, BuckeyeLearn. Her interests, job skills and desire to be on a college campus all aligned to bring her to our unit. Lauren likes visiting NC, but after grad school in PA, she's happy to be back in the OH-IO. When she's not on campus, you might find her volunteering or visiting a variety of local eateries. Get to know this effervescent personality!
Q: What is your role at the university? I am an Analyst on the BuckeyeLearn Team. I work mostly on the more technical aspects including release management and collaborating with teams across OCIO to make sure the system is running as best as possible.
Q: How long have you worked at Ohio State? I've been here for 1.5 years, I started in January 2018.
Q: What are you currently working on? What does a typical day look like for you? I am wrapping up a project to map the available functionalities in BuckeyeLearn. Next up will be preparation for the next vendor release.
In addition to working on technical aspects of the system I also serve as the main point of contact for our area admins in the Wexner Medical Center, so my days tend to include participation in training or feedback webinars with our vendor, responding to questions from the Med Center group, a visit to the food truck at Mount, working with other OCIO areas on our various jobs bringing info into the system, and a sprinkling of ServiceNow cases as they are sent my way.
Q: What do you like best about your job? The problem-solving/research that goes into resolving system and/or user issues as they arise.
Q. How do you create and innovate? I like to constantly evaluate the processes we use as a team to see if there are new ways to accomplish or approach them. I tend to throw out lots of ideas as I work which lead to great team conversations and new ideas for us to try.
Q. How did your career path bring you to work for us? I was ready to come home after spending quite a few years in southwestern Ohio and Philadelphia. During my job search I came across a position that bridged my previous experiences with IT, and I took the leap. In that position I experienced hands-on learning as we built and operated proprietary software for use in schools, and from there my next leap was here.
Q. Why did you choose to work at Ohio State? After working at a small non-profit software company, I realized that a college campus is where I felt most at home. Based on that I began to look into job opportunities at Ohio State and found one that aligned pretty perfectly with both my interests and skill set.  
Q. Of what are you most proud? My proudest moment to date is completing grad school. I moved to a completely new city where I knew absolutely no one, so I also consider it my greatest adventure so far.
Q: Where did you go to college? I attended Miami University for undergrad and the University of Pennsylvania for graduate school.
Q: Where are you from originally? Columbus!
Q: What is your favorite place to visit? Charlotte, NC
Q: If you could travel anywhere in the world, where would you go and why? My current travel bucket list includes Thailand, Iceland, and Spain.
Q. What do you do for fun outside of work? I really like cooking and exploring Columbus. I actually have a blog that I attempt to keep up with but occasionally forget to update. I am also an avid reader and have a book club with a group of friends.
Q. What kinds of things are you passionate about outside of work? The biggest causes I'm involved with outside of work involve women, children, and education. I serve in various positions with both the YWCA Columbus and the United Way of Central Ohio. I also volunteer at many events through Experience Columbus.
Q: What is something most people might be surprised to know about you? I was a cheerleading captain in college.
Q: Favorite place to eat in Columbus? This is a tough question! Happy Hour – The Pearl | Breakfast Food – Philco Diner | Lunch/Dinner – Forno, Pint House, Nida's Thai on High | Late Night/Comfort Food – Press Grill. Bonus (not downtown pick) – Rancho Alegre
Q: Best concert you've ever been to? Bruno Mars
Q: Favorite quote? "In order to be irreplaceable one must always be different." – CoCo Chanel
Q: Do you have a favorite book or movie? My favorite movie is Elf. I read a lot so it is easier to say my most recent favorite book which is Bad Blood: Secrets and Lies in a Silicon Valley Startup by John Carreyrou. An all-time fave would be the Harry Potter Series.
Q: Give three adjectives that best describe yourself. Effervescent. Creative. Analytical.