Employee Spotlight
August 2023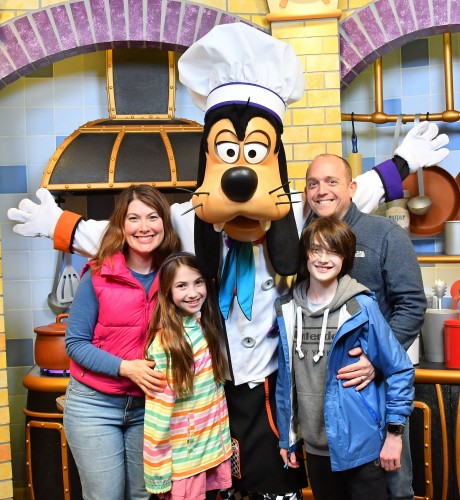 Meet Lauren, a Buckeye for Life with two degrees from The Ohio State and a career with the university spanning over a decade. This astronaut wannabe found her place among the stars in OTDI, first in Extended Education and now with the Relationship Management team. This wife and mother of two (humans) also has five pets and is part of a proud military family. If you see her OOO, she's likely visiting the picturesque seaside cities of Cinque Terre, Italy!
Q: What is your role at the university? Relationship Manager with OTDI
Q: How long have you worked at Ohio State? Eleven years. Six years with Extended Education in ODEE (now Digital Learning and Student Success) and five with the Office of Technology and Digital Innovation on the Relationship Management team.
Q: Did you always know this is what you wanted to do as a career? I always wanted to be an astronaut or an astronomer. After taking physics in high school, though, I knew it wasn't for me. I still love space, though, and when I lived in Houston, I would go to Johnston Space Center at least twice a year. Anytime someone would come to visit I would use it as an excuse to go!
Q: What was your very first job? Working in the snack bar at the community pool during the summer.
Q: Where did you go to college? I have a BA and MA from The Ohio State University
Q: Where are you from originally? Findlay, Ohio
Q: If you could travel anywhere in the world, where would you go and why? Cinque Terre, Italy. I saw a picture during the early days of the pandemic and hoped to be able to go one day. I am lucky enough to be traveling there in September and am excited to cross it off my bucket list!
Q: Can you tell us about your family? There is Pierce (12), Lorelei (10), Ian, and me. And our 2 dogs (Lambert and Amelia), our 2 cats (Hayden and Pebbles), and our tetra fish (Goat)!
Q: What is something most people might be surprised to know about you? We are a proud military family with my husband serving in the Air National Guard. While the logistics of life can be hard on my own, I have learned so much from him about the time, sacrifice, and honor that comes with serving in the Armed Forces.
Q: Favorite place to eat in Columbus? Brown Bag Deli in German Village
Q: Best concert you've ever been to? Bruce Springsteen in December 2002, right before the Buckeyes won the 2003 Fiesta Bowl. He sang "Hang on Sloopy" as part of his set list and the energy of the audience was so much fun.
Q: Favorite quote? Can I have two?
"We choose to go to the moon in this decade and do the other things, not because they are easy, but because they are hard…" (JFK, September 12, 1962)
"Courage, dear heart," C.S. Lewis
Q: Do you have a favorite book or movie? Signs by M. Night Shyamalan. The idea that seemingly inconsequential decisions or actions can add up to an outcome that you could have never imagined is so interesting.