Employee Spotlight
October 2018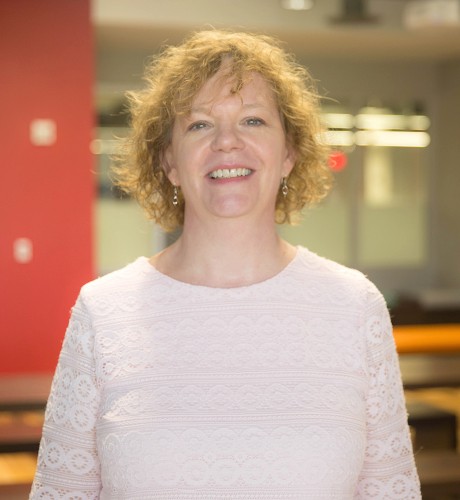 Data Governance and Policy Lead, Enterprise Project
Meet Laura Gast, the Data Governance and Policy Lead for the Enterprise Project. When moving to Columbus, she thought Ohio State would be a great place to work, and she was right! A Buckeye for over 20 years, Laura has had a hand in many a major upgrade, from PeopleSoft to Workday. This proud mom loves rooting for her boys on the rink and her Ohio teams on the TV. If you ever run into her noshing on gnocchi at Villa Nova, be sure to say "Hi!"
Q: What is your role at the university? I am currently the Data Governance and Policy Lead for the Enterprise Project.
Q: How long have you worked at Ohio State? I have worked at Ohio State for 23 years, nearly 22 of it in the Office of Human Resources before transferring to OCIO in May of 2017.
Q: Have you worked on any large projects since you've been here? I have had some role in each of the PeopleSoft HR implementation and upgrade projects. Beginning in 2002, my team was responsible for eReports and BuckIQ reporting. Now my role is within the Enterprise Project.
Q: What are you currently working on? We are currently working on standing up a Data Governance Program for the Enterprise Project. We are working to track data cleansing and monitoring data quality improvements on an ongoing basis, creating a business glossary (repository of data elements and terms with definitions) and defining a future-state data stewardship structure with roles and responsibilities. We are also working on raising awareness of data governance and its benefits.
Q: What do you like best about your job? After being in one organization for so many years, it's really fun to be a part of a different team. What I like best about my current role is being able to build something new that has the potential to have a significant positive impact within the university.
Q. Why did you choose to work at Ohio State? My husband and I were living in Cincinnati at the time and looking to move north to either Columbus or Cleveland since his family is in Sandusky. I saw the analyst job in OHR listed and figured Ohio State would be a great place to work. I guess I was right!
Q. Of what are you most proud? I am most proud of my two fabulous sons!
Q: What was your very first job? My first job was working in a local drugstore. Since it was small, I did a variety of jobs but my favorite was handling the candy order each week.
Q: Where did you go to college? I attended Butler University in Indianapolis for undergrad and Miami University for my master's degree.
Q: Where are you from originally? I am from Avon Lake, Ohio, which is on the west side of Cleveland. I lived in the same house from birth until my parents moved to Kentucky when I was in graduate school.
Q: What is your favorite place to visit? Niagara Falls on the Canadian side. My husband and I have been there several times and have taken our sons there a couple of times.
Q: Can you tell us about your family? My husband, Ken, is the Financial Analyst for the university's benefit plans. We have two sons: Michael is a sophomore here at Ohio State and is a student worker for Athletics. Matthew is a junior at Dublin Scioto High School.
Q. Do you have any hobbies? Because of my husband and sons, I'm an avid hockey fan. My sons each got their own season ticket to OSU men's hockey as infants and we've had the same seats for going on 19 years. Once my boys started playing themselves, I have attended as many of their games as possible. Now that my older son is in college, we no longer have to divide and conquer. In the past, I spent many weekends travelling with one son while my husband travelled with the other. Lacrosse season was better since there was little travel, but still conflicts. Once the younger one goes to college, I'll need to figure out new ways to spend my time.
Q. What kinds of things are you passionate about outside of work? Of course, I am passionate about my husband and sons. All four of us are avid sports fans and we are lifelong fans of the Cleveland Indians, Browns and Cavs as well as Ohio State and the Columbus Blue Jackets. It seems like there's always a game on in our home. I'm also pretty involved at my church.
Q: Favorite place to eat in Columbus? I really enjoy going to Villa Nova in Worthington for their excellent gnocchi.
Q: Do you have a favorite book or movie? My favorite movie is The Hunt for Red October and I have to watch at least part of it every time I find it on.
Q: It's 9 p.m. on a Saturday. What are you doing? If it's hockey season, I'm probably at a high school hockey game or an Ohio State game. If it's summer, I might be up in Sandusky on Lake Erie. Otherwise, I'm relaxing at home.