Employee Spotlight
January 2019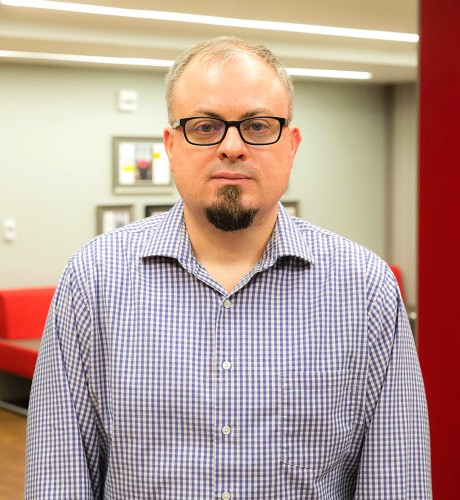 Senior PeopleSoft Administrator
Meet Kevin, a Middleware Administrator who hails from the small town of Frazeysburg. He's been with the university for over a decade, and he loves the people, opportunities and tradition that Ohio State has to offer. In the office, Kevin is often working on major implementations and upgrades, with AWS as a current focus. Off-campus, there's a high probability you'll find him with a group of friends, all gathered around their latest board game discovery.
Q: What is your role at the university? My role is "Middleware Administrator" which is just a fancy way of saying I work to tie the needs of the Development/Functional teams with the resources, applications, security, monitoring and architecture that they need to succeed.
Q: How long have you worked at Ohio State? In June, it will be 12 years. And wow, the time has flown by.
Q: Have you worked on any large projects since you've been here? Initially, I worked on the major Peoplesoft Implementations (HR/SIS) and their upgrades. In the last few years, I have transitioned to other projects including the Enterprise Project, Enterprise Integration Platform, Container Services and the Amazon AWS Implementation.
Q: What are you currently working on? I am actively working on upgrades to the Enterprise Integration Platform underlying services including the API Manager, Identity Server. Additionally, I am working on the implementation of Container Services, QASymphony, FDM Translator and a variety of AWS implementations. Many of these services directly or indirectly also support the Enterprise Project.
Q: What do you like best about your job? Without question, the opportunity to work on a variety of projects with managers that empower me to make decisions and help drive the incredibly dynamic technology decisions, is the best part of my job. It is challenging, rewarding and gives me the sense that I am making a positive difference.
Q. How do you create and innovate? Recently, I attended KubeCon (Kubernetes and Cloud Native Conference) and was amazed at the transition rate of some of the largest companies to a microservice, container-based environment and the open source tools they are using. We have been using these tools and have been transitioning to this model, but the external adoption rate is increasing exponentially. It reaffirms the work we have completed (and are completing) to adopt this model.
Additionally, our team has invested heavily into AWS and I am proud that our team has achieved a large count of AWS certifications, which helps drive innovations and solutions towards the cloud-friendly world.
Q: Did you always know this is what you wanted to do as a career? My initial career path was leading to a far different outcome. I was actively pursuing a degree in Industrial Hygiene. However, I had always been active with computers. My aunt had an opening as a desktop support technician and offered me a job, knowing that I was "good with computers." The rest is history. I found out what I wanted to do with my career.
Q. Why did you choose to work at Ohio State? I hope it is obvious to us at Ohio State, but it is an amazing place to work. I had only intended the stop at Ohio State to be a temporary one, to gain knowledge and experience, but I quickly found that I wanted to be here. The environment, people, tradition and opportunities are outstanding.
Q: Where did you go to college? MATC (now Zane State), Ohio University and a few classes here at Ohio State.
Q: Where are you from originally? A tiny little town, Frazeysburg, with a population of about 1,300. It is about one hour east of Columbus.
Q: If you could travel anywhere in the world, where would you go and why? There are too many places to limit it to just one, but I would like to see Italy, Greece and the United Kingdom. I like the rich traditions, architectures and histories of these countries.
Q. What do you do for fun outside of work? I am an avid board gamer. The new, modern board gaming explosion of the last decade has been incredible. And like most people, I have a great nucleus of friends with the same interests so I spend most of my free time with them.
Q. What kinds of things are you passionate about outside of work? Outside of the mentioned board gaming, I enjoy many of our Ohio sports teams including the Blue Jackets, Buckeyes, Bengals, Indians, Cavaliers, Crew, etc.
Q: Do you have a favorite book or movie? Movie – Interstellar. The theme of the movie and the soundtrack are incredible.
Book – Ready Player One. It was one of the best nostalgic books I have read, but I enjoy a wide variety of genres including Sci-Fi, Fantasy and Non-Fiction.
Q: It's 9 p.m. on a Saturday. What are you doing? That's easy. I am either board gaming, trying to find that next unique micro-brewery and/or spending time with my friends.