Employee Spotlight
October 2019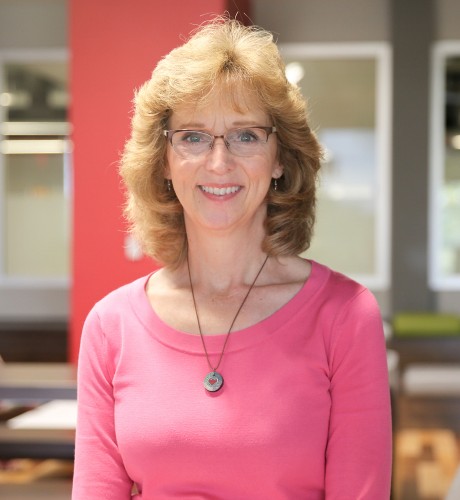 Associate Director, Digital Accessibility Services
Meet Kathy, a digital accessibility ambassador. She's working hard to make sure anyone can learn from and interact with digital content from our organizations. She's been with Ohio State for 28 years and counting, thanks to the career opportunities the university has to offer. She enjoys solving process puzzles and making a difference for staff, faculty and students at Ohio State. Outside of Mount Hall, you might find this wannabe archeologist traveling back in time to ancient cities around the world.
Q: What is your role at the university? I'm leading the new Digital Accessibility Services for the OCIO, as well as continuing to guide our accessibility efforts in the OCIO/ODEE/ES. I also have a small role in our efforts to improve the accessibility of Workday.
Q: How long have you worked at Ohio State? I've been at Ohio State for 28 years. Time flies!
Q: Have you worked on any large projects since you've been here? I was part of the team that implemented PeopleSoft Financials. It was called the "ARMS" project. It was hard work but a ton of fun with a great team.
Q: What are you currently working on? My team is currently working to equip Accessibility Coordinators from across the university so they can successfully implement the Digital Accessibility Policy in their areas. Up to this point, much of my time has been spent working with my team to design processes, develop training, meet with leadership from various departments, visit various groups/committees to share our new program and plan next steps.
Q: What do you like best about your job? I really enjoy figuring out and streamlining processes and procedures, meeting with folks to talk about the program and get their feedback, and best of all, to hopefully make a difference—to make someone's experience at Ohio State better.
Q. How do you create and innovate? It's like there are building blocks in my mind and I keep rearranging the blocks until it all makes sense…and then rearrange some more until I'm happy with the outcome! Sometimes I just need to look at the blocks from different angles, and sometimes I just need to stop thinking about the blocks so an idea can pop in.
Q: Did you always know this is what you wanted to do as a career? I never really knew what I wanted to be when I grew up. For a while I thought about being a marine biologist or an archeologist.
Q. Why did you choose to work at Ohio State? I wanted to move into IT, so I came to Ohio State as a Programmer Trainee in the Controller's Office. I've stayed because the university has offered me great opportunities my entire career, and I love being part of the greater good.
Q: Where did you go to college? I have a bachelor's degree from Miami of Ohio in Psychology, and a Master of Arts from Ohio State in Public Policy and Management.
Q: What is your favorite place to visit? Mackinac Island in early September
Q: If you could travel anywhere in the world, where would you go and why? Anywhere that is OLD! I still have a little bit of an aspiring archeologist in me.
Q. What kinds of things are you passionate about outside of work? I am most passionate about my faith in Jesus. I want to share with others the good thing I've found, so I look for opportunities to serve in my church and in my community.
Q: What is something most people might be surprised to know about you? I take modern dance classes.
Q: Favorite quote? Everyone needs "something to do, someone to love, and something to hope for." (This was my Dad's favorite quote, and now mine.)
Q: Do you have a favorite book or movie? My favorite books are the Chronicles of Narnia series.
Q: It's 9 p.m. on a Saturday. What are you doing? Watching a movie at home or visiting family. Either one will probably include popcorn or ice cream!