Employee Spotlight
April 2019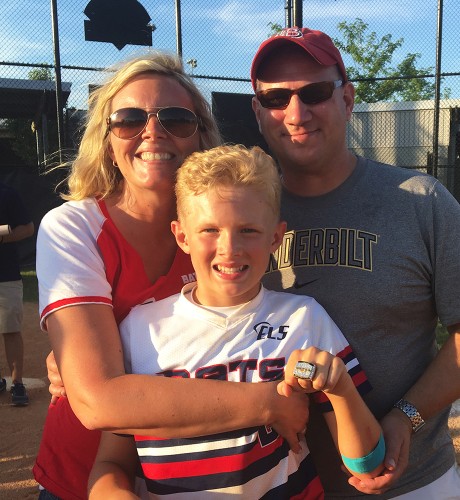 Chief Communications Officer
Meet Kate, the fearless leader of our marketing and communications teams. She has lived in several states but has continued to work for Ohio State, likely because every day brings her new and exciting challenges. This Nancy Drew wannabe now sleuths out the best way to share stories about our ongoing projects. When she's not working, you can usually find her at a sporting event with her husband and son or binging reruns of 80s TV shows.
Q: What is your role at the university? I have the privilege of leading marketing and communications work for the Office of the Chief Information Officer, Office of Distance Education and eLearning and Enterprise Security.
Q: How long have you worked at Ohio State? Almost 18 years! I joined Ohio State in September of 2001.
Q: What are you currently working on? There are so many exciting technology projects happening right now and I am thrilled to be a part of many of them. I love the diversity of working simultaneously on the Enterprise Project, Digital Flagship and MITS. It seems like no day is typical and that's part of what I love about my job. One day I'm working on something org change related for the Enterprise Project, the next I'm working on a presentation Mike Hofherr will be giving at a conference, and on another I'm drafting email messages to leaders. It is the lack of predictability that keeps my job interesting.
Q: What do you like best about your job? I love the diversity of the work and getting to engage every day with so many talented and creative people.
Q: Did you always know this is what you wanted to do as a career? I didn't even know that a career like mine existed until I was in college. That's why I try to tell my son not to worry too much about a career in middle and high school. You have to stay open to discovering what you are passionate about. As a kid, I wanted to be Nancy Drew.
Q. How did your career path bring you to work for us? My first job after graduate school was as an organizational change management consultant for Andersen Consulting (now Accenture). After that, I spent a number of years as the Education Services Manager for the Carnegie Museums of Pittsburgh. I loved organizational change work and working in non-profit education. The initial role I was hired for at Ohio State was a perfect combination of the two.
Q. Of what are you most proud? At Ohio State, I am most proud of being a part of the initial culture team that launched the Reward and Recognition program.
Q: What was your very first job? My very first job was with a construction company in my hometown. I worked there on summers and breaks from high school all the way through grad school. I learned a ton about home improvements, customer service and working in a small business. It was a really rewarding experience that still pays dividends today.
Q: Where are you from originally? I am originally from Springfield, Illinois. In fact, my family dates back 6 generations in Springfield. My relative's home is restored as part of the Abraham Lincoln national park area.
Q: What is your favorite place to visit? Amelia Island in Florida.
Q: Can you tell us about your family? My husband Jeff and I have been married for 21 years and we have a son, Logan. Jeff works in marketing and Logan will start high school in the fall.
Q. What do you do for fun outside of work? Do you have any hobbies? For fun, we love going to any type of sporting event…mostly baseball and hockey but we love it all. We've been to the Kentucky derby a few times, lots of golf tournaments – if it is a sporting event, we will be there. As a hobby, I collect old Nancy Drew novels. I almost have a complete set of first editions!
Q: What is something most people might be surprised to know about you? My ancestors fought in the revolutionary war and I'm in the process of joining the Daughters of the American Revolution (it was a promise I made my grandmother before she died).
Q: Favorite place to eat in Columbus? I have a lot of favorite restaurants in Columbus but J.Liu in Dublin has been one of our favorites for years. No matter where we live, the food in Columbus is always better!
Q: Favorite quote? I was halfway across America, at the dividing line between the East of my youth and the West of my future, and maybe that's why it happened right there and then, that strange red afternoon. - Jack Kerouac, On the Road
Q: Do you have a favorite book or movie? My favorite books are Barrel Fever by David Sedaris, Life After God by Douglas Coupland, and The Murder of Roger Ackroyd by Agatha Christie. My favorite movie is probably Dial M for Murder or Laura but I also have a weakness for pretty much any 90s action movie and all 80s television.
Q: It's 9 p.m. on a Saturday. What are you doing? Probably just getting back from a travel baseball tournament for my son.
Q: Give three adjectives that best describe yourself. Joyful, proactive, hungry (usually not in that order)