Employee Spotlight
March 2022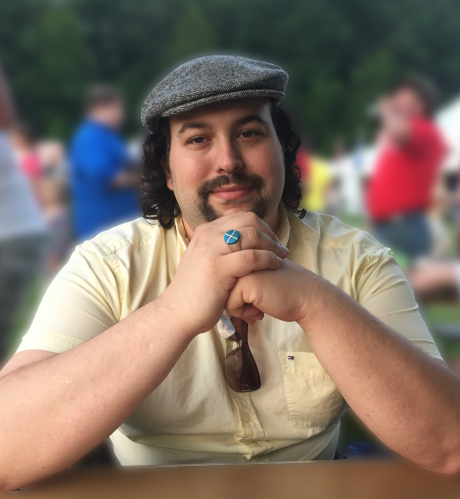 Desktop Support Specialist
Learn more about Joshua, a desktop support specialist who has been providing hands-on solutions for our customers for over two years. Joshua moved from New York to Ohio and decided to join the university so he could further his education and enjoy the work-life balance Ohio State provides. When he's not on campus, you might find him catching a flight to Scotland and Ireland, or perhaps donning a kilt at a local Celtic music festival.
Q: How long have you worked at Ohio State? I have worked at Ohio State now for almost two and a half years.
Q: Have you worked on any large projects since you've been here? Currently the largest project I am working on has me providing significant hands-on support and solutions to WOSU, the Universities NPR and PBS station, as they move their headquarters and specialized infrastructure after 50 years from the Fawcett Center to a new building off High Street on campus.
Q: What do you like best about your job? I really enjoy the interactions with various clients and helping provide a solution to the issues that my coworkers may encounter.  
Q. How did your career path bring you to work for us? After originally moving down to Ohio, I worked for IBM and then Wipro as a contractor for Columbia Gas. I supported many of the emergency response functions that Columbia Gas utilizes to support their utility infrastructure, as well as led teams in and outside of the field in several states during disaster recovery efforts.
Q. Why did you choose to work at Ohio State? I chose to work for Ohio State to further my educational goals, of which I am currently a In Career Masters student out of John Glenn School of Public Affairs, as well to enjoy a better work-life balance that the university supports.
Q: Where are you from originally? I originally grew up in a small town in Upstate New York on the edge of the Berkshire Mountains.
Q: What is your favorite place to visit? I really enjoyed visiting Glasgow in Scotland and would like to go back there again sometime in the future as well as maybe add on a bit of Ireland to really explore some unique countryside.
Q: Can you tell us about your family? I am happily married to my wife of 8 years. She also works for Ohio State in the libraries and is the original reason why we moved down to Ohio. I have two cats and a happy little dog.
Q. What do you do for fun outside of work? Do you have any hobbies? Outside of work I tend to be a person who likes to craft with various types of projects. I am a leather crafter, a custom PC builder, and hydrographic hobbyist.
Q: What is something most people might be surprised to know about you? Outside of work and weather permitting I have been known to be an aficionado of Celtic music and dress. It is not uncommon to find me, in the summer on the weekends, wearing a kilt.