Employee Spotlight
August 2018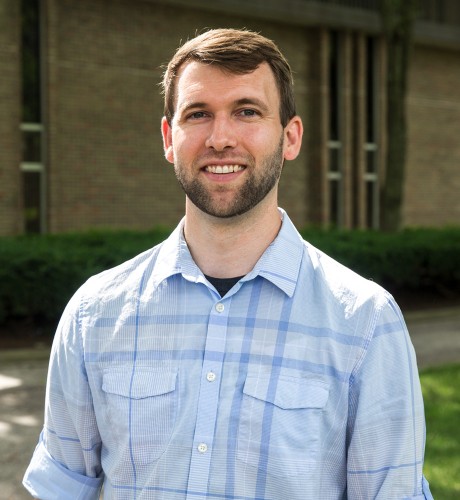 This security engineer is helping clients from around the university find meaning in their data. He's a father of two and full of dad jokes. Stop by and ask him about the book on anti-gravity he's reading—I hear he can't put it down! When not in Mount, you can catch Joe spending time outside with his kids, enjoying a delicious dinner at Marcella's or learning to brew beer.
Q: What is your role at the university? I work in Enterprise Security on the SEM team. Our job is to support the Splunk application and support users who send us logs.
Q: How long have you worked at Ohio State? A year and a half.
Q: What are you currently working on? I'm currently working on a couple of small projects to support visibility/availability of data. I plan on sending out some guides to the community on best practices for getting logs into Splunk.
Q: What do you like best about your job? I really enjoy the opportunity to be learn about so many parts of the university. We get to be involved in helping them centralize their logs and hopefully get meaningful data from them.
Q. How do you create and innovate? Collaboratively and with a large helping of humor.
Q: Did you always know this is what you wanted to do as a career? I always wanted to do IT as a career. I like that there is always more to learn. I'm fairly sarcastic, and I feel like a lot of IT folks are too, so it's a fun environment.
Q. How did your career path bring you to work for us? I've been following my wife around for the past 7 years to support her dream of becoming a professor. Last year, she accepted a job as an Assistant Professor in the College of Engineering.
Q. Why did you choose to work at Ohio State? We lived in Georgia for a few years and I had an opportunity to work at the Georgia Institute of Technology. I really enjoyed the higher-ed environment, so naturally when we moved here my goal was to work at Ohio State.
Q. Of what are you most proud? My family. My wife and I have two beautiful boys who are growing up WAY too fast!
Q: Where did you go to college? Emporia State University.
Q: Where are you from originally? I was born in Germany when my dad was stationed there, but don't remember it. I claim Leavenworth, KS as my hometown.
Q: If you could travel anywhere in the world, where would you go and why? I'm interested in going to Japan. I haven't been to that part of the world before and I want to experience the rich culture and history. I want to see the temples and shrines, explore the countryside, and sample some amazing sushi.
Q: Can you tell us about your family? I have 2 boys (1 and 3). The oldest is interested in trains and cars. The youngest is trying his hardest to keep up with the older one. They're both so sweet. My wife is awesome.
Q. What do you do for fun outside of work? Currently I'm spending a bunch of time working on my house. We're mid bathroom reno. I like to do some online gaming if I get time and I look for opportunities to get outside with the kids. I'm hoping to spend some time learning to brew beer.
Q: What is something most people might be surprised to know about you? I'm really into anime, board games, and dad jokes. Stop by and I'll tell you some jokes.
Q: Favorite place to eat in Columbus? It's either Marcella's or Forno on High Street. I've probably been to those 2 places 5 times each.
Q: Best concert you've ever been to? Uproar Fest 2011. I went for Seether and Three Days Grace, but Avenged Sevenfold live was the best part of the concert.
Q: Favorite quote? "The true test of a man's character is what he does when no one is watching." -John Wooden
Q: Do you have a favorite book or movie? My favorite book series is the Wheel of Time by Robert Jordan
Q: It's 9 p.m. on a Saturday. What are you doing? Hopefully drinking a beer and relaxing.
Q: Give three adjectives that best describe yourself. Honest, outgoing, and relaxed.