Employee Spotlight
September 2016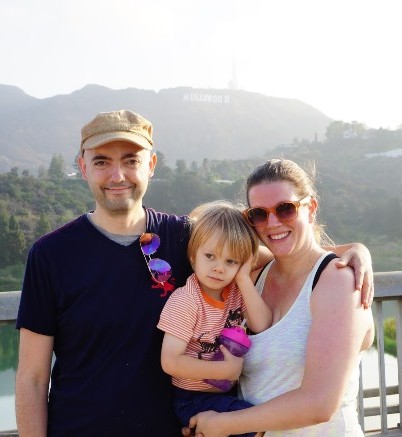 This month, John Muir is in the spotlight! This instructional designer works with online degree programs, and he loves being able to shape the direction of the online learning experience. This former robot, kilt-wearer and rock star is also a fan of eco-horror-sci-fi books and symphony orchestras. You can find him in St John Arena designing courses or at Arepazo eating Latin American food…or across the border in Latin America! Learn more about John in this month's employee spotlight.
Q: What is your role at the university? I'm an instructional designer, and I coordinate our development of courses for online degree programs across the university. Our team works with faculty on about 30 courses per semester.
Q: How long have you worked at Ohio State? I've been here a little over three years. My son was born the morning after my job interview (about three weeks before I started), so I remember the dates pretty clearly still.
Q: What are you currently working on? What does a typical day look like for you? Right now I'm working with faculty (from John Glenn College of Public Affairs, College of Medicine and CFAES) to design three new online courses. This usually means bus rides to those different locations every week. I also lead huddle meetings where our nine instructional designers check in on their current course-design projects and share expertise. This fall I'm also leading a Course Design Institute faculty cohort in collaboration with UCAT. We're excited to also now be working on a course-design quality initiative where we'll tag course characteristics and eventually track their impact through faculty and student feedback and data from Canvas.
Q: What do you like best about your job? I believe we're in a moment when the expansion of online learning could either serve (on the cynical side) to diminish and commoditize higher education or (on the positive side) to improve people's access and make the experiences richer and more meaningful. Our team pushes, every day and every semester, toward that latter set of goals, and I find great satisfaction and excitement in that. Working with Ohio State faculty is an incredible privilege.
Q: Where did you go to college? I attended the College of Wooster, where I played in the marching band (and wore a kilt), started up a performance collective and once won the college's Battle of the Bands—in costume as a robot. I got my master's degree from Ohio State, though, and taught Spanish courses here for two years.
Q: Where are you from originally? I grew up in Youngstown and on the west side of Akron, and later in the Akron suburb of Copley. I've lived in California and Arizona, too, but I'm an Akron-Cleveland guy through and through.
Q: What is your favorite place to visit? I love Spain and Latin America. My wife and I are excited to take our son to see Argentina and Mexico, in particular. The city of Oaxaca in Mexico is a particularly special place for us—some of the best food and best people you could ever encounter
Q: Can you tell us about your family? Wife and son. A few little brothers, one of whom worked in OCIO (you may remember him from the OCIO house band, RockIT).
Q: Do you have any hobbies? I'm a pretty voracious reader and lover of music, both rock and classical. For most of my adult life I've been a dedicated fan of the Cleveland Orchestra; I've probably attended more than a hundred performances. They're perhaps the greatest symphony orchestra in the world, and they're in Cleveland!
Q: Favorite place to eat in Columbus? My very favorite is probably Arepazo, which is a Venezuelan restaurant. They have three locations now, of which the Gahanna one is my preference. The patacón is my go-to dish.
Q: Best concert you've ever been to? My wife and I went to Coachella a couple of times when we lived out west—some performance in there must have been the best. (I got to see the hologram of Tupac.)
Q: Favorite quote? I really love James Richardson's book of aphorisms, called Vectors. One of them might be my favorite. Perhaps "The best time is stolen time." Or maybe "It's amazing that I sit at my job all day, and no one sees me clearly enough to say 'What is that boy doing behind a desk?'"
Q: Do you have a favorite book or movie? My favorite recent book is actually three: The Southern Reach Trilogy by Jeff Vandermeer. I think it's classified as "weird fiction"—it's sort of an eco-horror-sci-fi style. My all-time favorite might be Pedro Páramo by Juan Rulfo, a ghost story about Mexico.
Q: It's 9 p.m. on a Saturday. What are you doing? I'm probably halfway through a long bedtime for my son, and then maybe, just maybe, I'll be awake enough to stay up and spend quality time with my wife!