Employee Spotlight
August 2017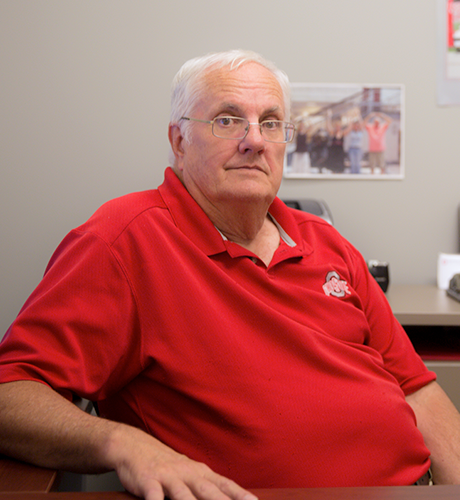 Academic Advisor and Staff Assistant
He's an Academic Advisor for Extended Education, working with students and setting them up for success. This goofy grandfather of five loves his coworkers…and celebrating Hump Day each week! A former naval officer, Jody brings a sense of pride to every project and a personal touch to every advising experience.
Q: What is your role at the university? As an Academic Advisor and Staff Assistant, I am able to provide an opportunity for a diverse group to further their education by enrolling in academic courses here at Ohio State. We serve a number of international visiting students who are attending for one or two terms, thus contributing to the diversity of the university population. In addition, we provide them with support and assistance in achieving their goals while attending the university.
Q. How did your career path bring you to work for us? I have been an academic advisor for over 40 years, 35 at another university. My wife accepted a position here at Ohio State and I felt I could still provide service to students here.
Q. What do you do for fun outside of work? I have five grandchildren and follow their activities, one who is a very good baseball player. And I am active in my church choir.
Q. On what project are you currently working? I just finished a CarmenCanvas site for the advisement of a group of international visiting students relating to their orientation and enrollment here at Ohio State.
Q. How do you create and innovate? I work at involving the people, skills and resources of those within the Office of Distance Education and eLearning in terms of how to better serve the students we advise and enroll, by utilizing tools such as iTunes U and other resources. I also try to get to know the person I am advising and/or working with to better personally assist them.
Q. Why did you choose to work at Ohio State? It provides a lot of opportunities and I felt that my experience could be used, and most of all it is "The Ohio State University."
Q. Of what are you most proud? I am most proud of our staff that I work with and the quality of service we provide. The support of our department from the top down is the best I have ever experienced. I take pride in assisting students to be the best that they can be and accomplish their personal goals.
Q. What kinds of things are you passionate about outside of work? Meeting new people and taking advantage of all that Columbus and the university have to offer.
Q. What is the one thing that your co-workers would be surprised to learn about you? I was in the Navy for three years and had a Top Secret Security Clearance. I am known for my sense of humor, and most know me for Hump Day Wednesday and Inspiration Friday.