Employee Spotlight
April 2017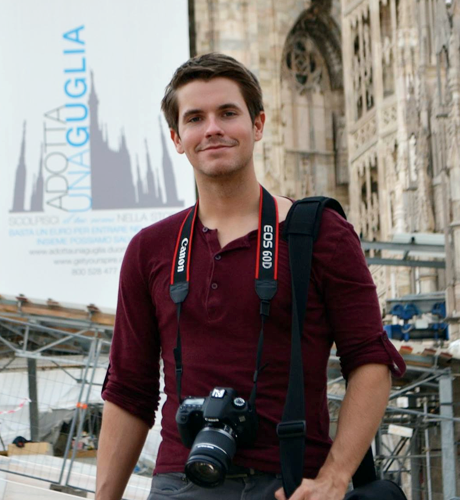 This Web Designer spends his time creating accessible and appealing websites that reach a wide range of the university community. From advertising to academia, Jesse was drawn to Ohio State where his work directly impacts the lives of students. This surprising Slytherin can be found slinking in and out of local coffee shops and cinemas. If you get a chance, ask him about his vegan cookbooks!
Q: What is your role at the university? I work with the Web and Design Team as a Web Designer. I help our organization produce accessible, branded and appealing websites and communication materials to help students and the community navigate distance education, College Credit Plus, Program 60, extended education, Enterprise Security, STEM events including Ohio Science Olympiad and various other resources.
Q. How did your career path bring you to work for us? After graduating college, I worked as a graphic designer at a newspaper, designing advertisements for print and web. From there I moved on to Southern State Community College where I served as the Webmaster for over three years. When seeing the impact the work had on the lives of students, I felt honored to be part of an educational institution, which drew me to Ohio State.
Q. What do you do for fun outside of work? I love and watch way too many movies and shows and can talk about them all day. I go to a lot of concerts and love spending an afternoon playing games at a coffee shop with friends.
Q. What kinds of things are you passionate about outside of work? I'm very passionate about being vegan, which I'm sure everyone knows about me. They say you always know who is vegan because they are sure to tell you. :) After learning about all the good that comes from it, you can't help but share with everyone around you. I'm always up for talking to anyone who is interested in trying it! I have some great cookbooks. ;)
Q. What is the one thing that your co-workers would be surprised to learn about you? I was sorted into Slytherin House—I'm a huge nerd which I think most of my co-workers already know about me.