Employee Spotlight
February 2019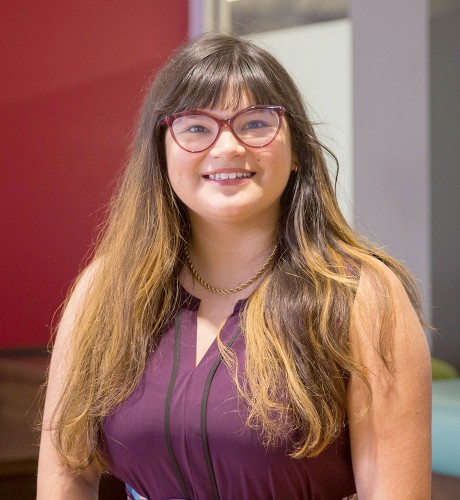 Meet Grace, a member of the web and mobile team who's developing and designing optimal user experiences daily. She's #new2osu and happy to be here—she found the perfect fit of people and purpose in her work. Outside of Mount Hall you might find her diving into a delicate little dough pocket at Dewey's or catching up on her Netflix queue with her husband and Ninja kitty.
Q: What is your role at the university? My title is Java Engineer - Intermediate. I am on the Web and Mobile team. My role includes using modern frameworks, like ReactJS, to build user-friendly websites.
Q: How long have you worked at Ohio State? A little over four months
Q: Have you worked on any large projects since you've been here? I've had the opportunity to work with the Cybersecurity team on an incentive platform. I have also helped out with the content publisher used to create articles for the Ohio State and Discover apps, and to create content for Cybersecurity's incentive platform.
Q: What does a typical day look like for you? A typical day varies, but it mainly includes web development and, on occasion, using Sketch design software to create and optimize user experiences. I am currently working on a project that allows a person to send out requests for recommendations.
Q: Favorite quote? "We need to remember what's important in life: friends, waffles, work. Or waffles, friends, work. Doesn't matter, but work is third." ― Leslie Knope
Q: What do you like best about your job? The people!
Q. Why did you choose to work at Ohio State? I wanted to work somewhere that made a direct impact on people's lives, and I wanted to make sure that it was a team of good people. I found all of that with Ohio State.
Q: What was your very first job? My very first job was with Papa John's, answering phones, taking orders and occasionally making pizza.
Q: Where did you go to college? I graduated from Southern New Hampshire University with a major in Game Design and Development.
Q: Where are you from originally? Long Island (New York)
Q: Can you tell us about your family? My husband, Eric, is an iOS developer from Columbus, and we have a black kitten named Ninja. I come from a big family, with lots of brothers, two of which are also developers. I am close to my in-laws, all of whom are Ohio State alumni!
Q. What do you do for fun outside of work? Do you have any hobbies? I spend time with my cat and husband, lots of Netflix and Hulu. I also enjoy Final Fantasy XIV and reading occasionally.
Q: What is something most people might be surprised to know about you? I studied sociology and criminology for almost three years.
Q: Favorite place to eat in Columbus? Dewey's Pizza. I even had my rehearsal dinner there!