Employee Spotlight
May 2019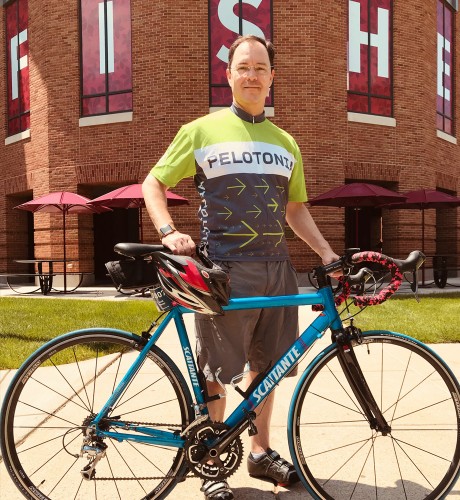 Associate Director, Middleware
Meet David, a member of your friendly neighborhood application support team! He handles installs, patching, securing and more to allow developers to focus on, well, development. David loves his team and the culture of the organization, which allows him to explore and continue to learn. He's even graduating with his MBA from the Fisher College of Business! His current hobbies outside of his coursework include living vicariously through his children and just enjoying some family time. Outside of Mount Hall, you might catch him at a local science fair or robotics competition.
Q: What is your role at the university? I have the honor of leading a team that provides application platform support. We operate as a "force multiplier" for development teams, allowing them to focus on development and functionality work rather than infrastructure and operations activities installing and patching software and standing up, securing, and integrating application platforms.
At one time, PeopleSoft represented a significant portion of that work. Gradually our efforts and focus have shifted along with our customers' focus, toward agile and cloud platforms. By focusing on application platform support we gain efficiencies through specialization and standardization and we avoid treating each new application as a unique snowflake. Platforms we support include: Enterprise Document Management, Enterprise Integration Platform, Web Hosting, Mobile, Tableau, Containers and Amazon Web Services.
Q: Have you worked on any large projects since you've been here? I was hired into a "temporary" position in 2006 for a four-year project to implement the new student information system and get off the mainframe system. And now we are working to get off that system and onto Workday. Both of those definitely qualify as large projects!
Q: What do you like best about your job? I love working in close teams and I love the people I work with. I'm also very excited about the culture that is being fostered and am continually impressed with the tremendous talent at Ohio State. Also, the constant change and innovation keeps things interesting.
Q. How do you create and innovate? Playing, experimenting, collaborating, and embracing new challenges! Creating a "rennernet.net" in Amazon as an experiment (a follow-up to a joke really) provided fodder for later innovation. Perhaps making a Minecraft server with my son out of a raspberry pi will pay off? Also, getting my MBA has provided wonderful new challenges and exposure to new people and ideas. (I graduate this Spring!)
Q: Where did you go to college? My mother went back to school here at Ohio State when I was in middle school. During the summer, I got to go to her classes with her and hear lectures on marginal rates of substitution between jelly beans and neutron bombs. She claims I'm the reason she passed her economics class, but in any case, I felt very much at home at Ohio State and never really considered any other college.
Q: Where are you from originally? My father was in the Air Force and we moved around a bit. I was actually born in Traverse City, Xichigan –which I hear is quite pretty. Although I don't remember Traverse City, I do remember significant portions of my childhood growing up in Louisiana and Florida before we moved to Westerville, Ohio while I was still in elementary school.
Q: Can you tell us about your family? My wife Katie and I have been married for 18 years and we have two kids, Sarah and Paul. Katie used to teach biology at Columbus State but recently rebooted her career and now works as an IT specialist at Veeva. Sarah and Paul are in high school.
Q. What do you do for fun outside of work? Do you have any hobbies? Rowing, Orchestra, Wrestling, Robotics –oh wait, those are my kids' activities! Spending time with my family, living vicariously through my kids, and working on my MBA seem to take the place of my hobbies right now.
Q: What is something most people might be surprised to know about you? I used to run a mobile DJ business with my brother.
Q: Best concert you've ever been to? The first concert at the Ohio stadium: Pink Floyd!
Q: Favorite quote? "The single biggest problem in communication is the illusion that it has taken place."  –George Bernard Shaw
Q: Do you have a favorite book or movie? It's too hard to pick a favorite movie but some of my favorite fiction includes: Lord of the Rings, The Little Prince, and even though it's a kid's book, Harry Potter. They all have rich, compelling worlds and relationships.
Q: It's 9 p.m. on a Saturday. What are you doing? Perhaps, getting back from a regatta, robotics competition, or science fair, and wondering if the kids will be settled in their beds before midnight or not.
Q: Give three adjectives that best describe yourself. Curious, collaborative and persistent.