Employee Spotlight
May 2022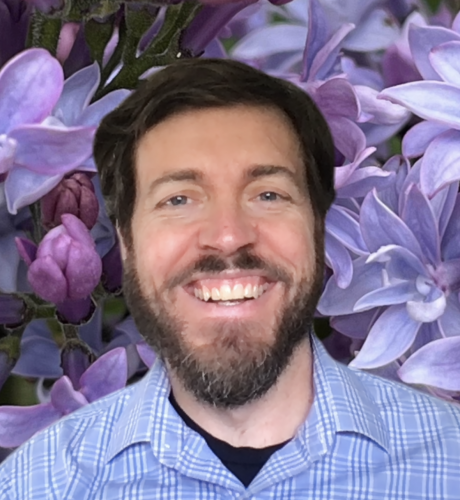 Associate Instructional Designer
Say hello to Dave. This former instructor and improv-er is now a course improver on the instructional design team. He loves doing impactful work and has been involved with shaping the bookend courses for Ohio State's new GE program. He's also fully enjoying the inclusive and collaborative nature of OTDI. Outside of work, Dave is likely spending time with family, listening to music, and traveling any chance he gets. If you get a chance to chat with him, your conversation could span a few different languages!
Q: What is your role at the university? I'm an Associate Instructional Designer.
Q: How long have you worked at Ohio State? This time, two years and a month. But I worked here twice as a lecturer and for many years as a GTA.
Q: Have you worked on any large projects since you've been here? I worked on the Faculty Faces video project for the new GE Bookends courses that are kicking off in SU 22 and AU 22. My role was to communicate and coordinate with faculty about the project as well as interview them. This resulted in great collaborations with two colleagues in particular. We developed the questions, scouted locations, created documents for the planned transition of the project to another team, and more. I love working on big projects like that. Getting to meet so many amazing faculty and staff in the process was a real joy, too.
I've also worked on the DEIJ Task Force Research Team, helping with efforts to assist other teams with research tasks.
Q: What are you currently working on? What does a typical day look like for you? Presently I'm working on my usual load of course development and revision projects. My typical day might include development meetings with instructors, managing those projects, and collaborating with teammates on them. It might also include meeting with others from across the team for instructional design workshops, deep thinks, and other meetings. I'm also preparing my Associate-level portfolio.
Q: What do you like best about your job? It feels great to feel valued and included and to know that we are doing impactful work. The DLSS team (and all of OTDI) really prioritizes that and has made feeling connected a reality from the start.
Q. How do you create and innovate? Playing, practicing, moving, and reflecting are all things that help me create and innovate. I used to be in an improv comedy troupe. That plus playing in bands are favorite creative experiences. I've found this job to have similar spaces of jamming with others through brainstorming and collective wondering about topics. Joining my kids in whatever projects or worlds they are creating also helps jumpstart a good creative flow for me, too.
Q: Did you always know this is what you wanted to do as a career? Playing professional baseball was a childhood dream. Playing or making music remains a dream job. Working for Sesame Workshop is another.
Q. How did your career path bring you to work for us? I have an MA and a PhD from Ohio State in Latin American and Luso-Brazilian Literatures and Cultures in the Department of Spanish and Portuguese. After teaching around the country at a variety of institutions, I was lucky to hear about this position, which seemed like a nice fit for my interests in teaching, design, and DEIJ-related concerns.
Q. Why did you choose to work at Ohio State? I had heard that the atmosphere of OTDI was an incredible, inclusive, collaborative space. That sounded like a really nice place to be, and it continues to live up to that description. I'm honored to contribute towards that culture and towards our work throughout the university.
Q. Of what are you most proud? My wife and I survived an explosion that significantly burned and completely upended us. I'm proud we survived it, had three kids, completed several advanced degrees, and both changed career paths.
Q: Where did you go to college? Ohio Wesleyan University
Q: What is your favorite place to visit? I don't have just one. New York City, Chicago, Oregon, São Paulo, the Redwoods, Mexico City, Cleveland, Toledo
Q. What do you do for fun outside of work? Do you have any hobbies? Mostly right now it's doing stuff with our kids. We do a lot of community-related activities with them. My partner and I are co-leaders in one of their Girl Scout troops. We're also all really into our garden.
When it's just the two of us, we enjoy watching shows, hearing live music, discussing news, travel, cooking, and running. When it's just me, it's music. I love listening, I love playing it, I love interviews about it. I love writing about it. Also, travel, cooking, languages, reading.
Q. What kinds of things are you passionate about outside of work? Justice. Human rights. Anti-racism. Our kids. Languages and cultures. Veganism. Food politics.
Q: What is something most people might be surprised to know about you? That I spent three years in an improv comedy troupe, that I love dancing, and that I speak a few languages
Q: Best concert you've ever been to? This is my favorite thing to do. I can't choose one. Here are a few: Kenny Barron Trio at the Universidad de Salamanca; Radiohead; Café Tacvba; Fugazi; Beastie Boys and A Tribe Called Quest; Public Enemy and Blackalicious; Joanna Newsom; Sharon Van Etten, Jens Lekman; M.Ward; The Decemberists; Pavement; The Walkmen; Tom Zé; Z'Africa Brasil; Mallu Margalhães; The Skatalites; Hepcat
Q: Favorite quote? "Perfect prose is not encessary." A friend sent this to me as a chat while writing my dissertation. He misspelled it like that on accident. But what a perfect illustration of his point! It remains a favorite quote that continues to inspire me to get words on the page or just get started on whatever I'm doing.
Q: It's 9 p.m. on a Saturday. What are you doing? If it's me, playing music, reading, or watching something. If it's me and my wife, we're playing a board game, working on a project, or watching This Is Us, The Marvelous Mrs. Maisel, or something else. If it's all of us, it's summer, and we're outside checking out the lightning bugs.