Employee Spotlight
May 2018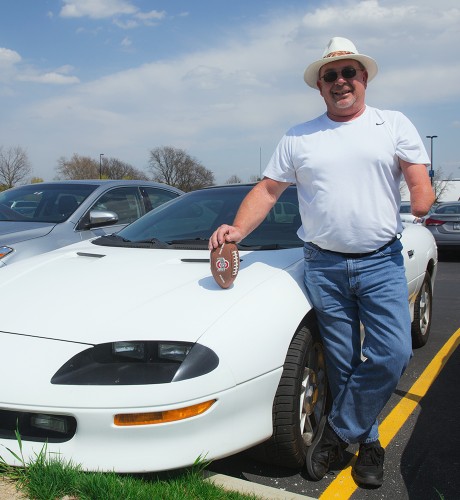 Director of Administrative Applications
Meet Darryl, Director of Administrative Applications, who is typically delving into the PeopleSoft realm. This Buckeye fan was recruited by a friend, and has stayed for nearly 20 years! It's no surprise he's stayed with the university since he loves the people he works with and the culture we've created in our organizations. Darryl worked hard and played hard in high school to achieve his goals on the field, and now he brings that same football mentality to work every day.
Q: What is your role at the university? Director of Administrative Applications—mostly PeopleSoft Enterprise apps
Q: How long have you worked at Ohio State? I have worked at Ohio State for 19+ years. I started at the Research Foundation (now the Office of Sponsored Programs) on October 5, 1998 for a Y2K project.
Q: Have you worked on any large projects since you've been here? There was the PeopleSoft Financials project whereby we merged two separate PeopleSoft instances, upgraded from version 7.02 to Financials 8.4 and implemented 5 new modules to manage grants and contracts—about 2 ½ years of work—I was the Associate Director over all of the functional modules.
Q: What are you currently working on? What does a typical day look like for you? I have a small role on the Enterprise project working on record retention controls, but most of my day is planning work for PeopleSoft regulatory updates, minor enhancements, security patching and the integration work required for Workday and PeopleSoft student systems.
Q: What do you like best about your job? I really enjoy the people and the environment we have created in the OCIO/ODEE. It's a fun and challenging place to work where you feel like you really do make a difference.
Q: Did you always know this is what you wanted to do as a career? No, I always thought I would be a teacher and football coach. In 1981, I took a job as a third shift computer operator at Highlights for Children and stayed in the technology field ever since.
Q. Why did you choose to work at Ohio State? I always enjoyed listening to or watching the Buckeyes play sports with my Dad, and I always thought it'd be cool to work for Ohio State. Lucky for me, a friend of mine worked here. He recruited me, and my daughter was about to go to college, so the timing was perfect (yes, she chose Ohio State).
Q. Of what are you most proud? Aside from my wife and raising two very good kids, I'd have to say I'm most proud of my accomplishments in high school. My senior year, I took college prep classes and was in the 4.0 GPA Club. For football, I was elected the captain of my football team, was a first team all-state offensive lineman, central Ohio's offensive lineman of the year and won the team defensive player of the year award! I didn't expect any of the above—I just worked hard and played hard.
Q: If you could travel anywhere in the world, where would you go and why? I'd go to some of the national parks out west in America. I'm just fascinated with nature and love being outdoors.
Q: Can you tell us about your family? I've been married for 37 years, 2 children and 6 grandkids. My daughter is a CRN here at Ohio State and my son is a Fireman/Paramedic for Columbus. The grandkids are quite fun and we love being with them as they grow and learn. My wife provides daycare for the little ones.
Q. What do you do for fun outside of work? Do you have any hobbies? I like to work on older American cars. I bought a 1966 Chevy Biscayne in 1992. My son was 7 and he and I rebuilt it over the years. I built the engine that is in the car now.
Q: What is something most people might be surprised to know about you? I was voted the most athletic person in my high school class my senior year.
Q: Favorite place to eat in Columbus? Minelli's Pizza (been going there since the early 70s…with my parents of course)
Q: Best concert you've ever been to? World Series of Rock in Cleveland (Thin Lizzy, AC/DC, Aerosmith, Ted Nugent and Journey all in one day).
Q: Favorite quote? Work hard/Play hard
Q: It's 9 p.m. on a Saturday. What are you doing? Most likely we spent the early part of the day at one (or more) of my grandkid's sporting events, so we like to go to our campsite to enjoy a fire, friends and the outdoors…relaxing.
Q: Give three adjectives that best describe yourself. Fun, dedicated and dependable