Employee Spotlight
April 2018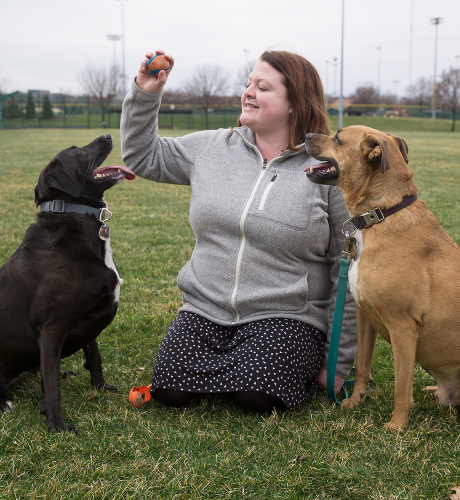 Meet Colleen, an EDM analyst who enjoys the people side of IT. This problem-solver was drawn in by the culture of Ohio State, and we got her hooked for seven years and counting! When she's not at Mount Hall, you may find her crushing Shadow of Mordor, playing fetch with her two large pups or planning a getaway to Punta Cana.
Q: What is your role at the university? I am an analyst on the electronic document management team, and I've been at Ohio State for a little over seven years.
Q: Have you worked on any large projects since you've been here? I started at Ohio State on the Semesters Conversion Project, and after that I worked on the 9.2 PeopleSoft upgrade.
Q: What does a typical day look like for you? I work on the EDM team bringing in new customers.
Q: What do you like best about your job? I enjoy meeting people around campus and then seeing them again for different projects.
Q: Did you always know this is what you wanted to do as a career? I wanted to be MacGyver or Indiana Jones when I was little, so this is basically the same because I'm always problem solving.
Q. How did your career path bring you to work for us? I majored in Math, and I was leveraging my customer service experience when I searched for jobs. Moving to an IT Analyst role was a natural fit.
Q. Why did you choose to work at Ohio State? I was living in Akron at the time, working in the private sector. I wanted a change, and it seemed like a culture I wanted to be a part of.
Q. Of what are you most proud? Probably training my dog, Laszlo. He knows quite a few tricks, and we are usually working on a new one. I think it's very rewarding to spend the time bonding with your dog, and seeing the results.
Q: Where are you from originally? I'm from a small town called Mantua, in the Cleveland area.
Q: What is your favorite place to visit? Punta Cana, Dominican Republic, specifically the Excellence all-inclusive resort there. I went there for my honeymoon, and I wish I could go back.
Q: Can you tell us about your family? Me, my husband and our two large dogs make up my family. We have a Lab mix and Boxer mix, and we all play fetch every day.
Q. What do you do for fun outside of work? Do you have any hobbies? I enjoy seeing movies, (MoviePass is awesome), playing videogames (currently crushing Shadow of Mordor), playing piano, reading books, walking the dogs.
Q: What is something most people might be surprised to know about you? I'm a hard-core gamer. I guess you can't tell from looking at me.
Q: Favorite place to eat in Columbus? Little Palace on 4th Street, near Dirty Franks. Small plates, cheese curds and La Fin du Monde on tap.
Q: Do you have a favorite book or movie? I can't pick my favorite movie; it's a toss-up between Spaceballs, What We Do in the Shadows, Blazing Saddles and Real Genius. My favorite book is probably Ready Player One.  
Q: Give three adjectives that best describe yourself. Hilarious, outgoing, comfortable