Employee Spotlight
February 2023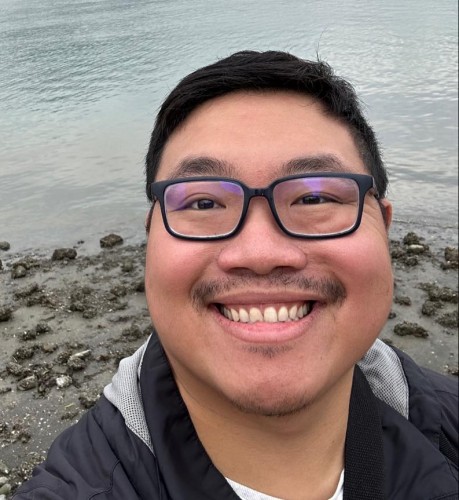 Meet Jay, an educational technologist whose career has taken him all around the university, where he's made connections and partnerships along the way. He's a SME of enterprise tools who thinks up new ways technology can be used to support teaching and learning at Ohio State, for in-person or online courses. A typical day for Jay at the moment is 13 hours ahead! He's visiting family and exploring Taiwan by day and taking Zoom calls at night. Besides the flexibility, Jay loves the endless possibilities in his role and working with so many other lifelong learners. When he's back in Columbus, you can meet up for dim sum or a piano jam session.  
Q: What is your role at the university? I am an Educational Technologist on the Media Innovation Team (MIT) at OTDI's Digital Learning and Student Success (DLSS) organization. I hope I got all the acronyms right! Basically, my role on the team is to have an operational command of the learning technologies in our enterprise toolset; to brainstorm, test, and demo as to how they can be used in manners that support teaching and learning; and to consult as to how they can be implemented and integrated in educational offerings, including Ohio State Online courses.
Q: How long have you worked at Ohio State? It has been around 10 years, which is much longer than I thought! My first position was over at the Nisonger Center from 2012-2016, working with transition-age adults with intellectual and developmental disabilities. Then, I worked as an instructional designer over at the College of Vet Med from 2016-2022. I joined OTDI in February of 2022.
Q: Have you worked on any large projects since you've been here? Even as a relative newbie, I have already had opportunities to help with large projects. One such project was the asynchronous HTML training for instructional design staff, which I am excited about because I think we did a good job making it informative and relevant. I have also been involved in several technical writing projects, including the ID handbook, process documents, and job aids for enterprise tools as well as tools under investigation. Finally, as an automation enthusiast, it's been awesome that I have had the opportunity to work within the Microsoft 365 environment and figure out a way to track, monitor, and contextualize tasks that have been assigned to my team.
Q: What does a typical day look like for you? Since I am currently in Taiwan visiting family and 13 hours ahead of East Coast time, I have not been working the 9-5 (local time) workday; rather, I have typically been working (at a coffee shop) in the morning, doing some light sightseeing or errands in the afternoon, and working a bit more at night at home. Mornings have been typically for checking and replying to messages as well as catching up on meeting recordings, and nights typically for "doing" and taking synchronous meetings. There has also been flexibility depending on how much I have got going on for a given day or week.
Q: What do you like best about your job? What I like the best about my job is the general sense of possibilities. Being on a large team with diverse interests and expertise, there have been plenty of opportunities to collaborate, explore new areas, and learn from each other. Folks at DLSS, including those on my team, have been genuinely eager to collaborate, not necessarily out of need because of the depth and breadth of work that we engage in, but out of an orientation toward innovating and drawing from each other to do the best that we can in what we do. In addition, DLSS has a culture of genuinely looking out for the development and wellbeing of its members, all the way up to the leadership level, which translates to practices such as growth mindset, grace giving, empathy, and respecting work-life balance as well as boundaries. Finally, DLSS's accountability-based project management workflows enable remote and asynchronous work styles, which has made my current situation possible, and my team, including my awesome manager, has been very supportive.
Q. How do you create and innovate? I continuously calibrate between doing and planning. I would get excited about an idea or a new tool and immediately want to build something tangible with it, but then I would realize I am missing a piece of knowledge or technical information, so I would dig into documentations or other resources, but at the same time I know myself enough that I would watch and keep myself from getting in the weeds. I am also typically not shy about asking for feedback, because otherwise there is a real possibility that what I end up building will be useful to myself only. Finally, I try to have a mentality that everything is work-in-progress until it isn't, so while I would flesh out the requirements of a new project based on the big picture and potential future directions from its start, I am also cognizant that revisions are inevitable and good for the project.
Q: Did you always know this is what you wanted to do as a career? Not exactly. My instructional designer friends and I joke about how many of us stumbled into this field – for me, it took 2 undergrad major changes (computer science to accounting to psychology), 2 master's degrees (social work and instructional technology), and 1 mid-position role change to get here, and I still aspire to expand in depth and breadth. At least when I was in undergrad, instructional design was not a field that I was aware of, and it was not until around 2015 when I was exposed and decided to pursue it. To me, instructional designers are in the business of helping others learn and develop themselves, and we are lifelong learners ourselves – some of us get here more directly, while others get here after taking some detours, but all of us strive for excellence because we care about learning and growth.
Q. How did your career path bring you to work for us? My first full-time position at the Nisonger Center was grant-funded, and at some point I was assigned to EnvisionIT, which is an "evidence-based, standards-aligned, digital curriculum for grades 6-12 that teaches English and Languages Arts, Information Technology Literacy, College & Career Readiness, and Financial Literacy"; incidentally, I first met my current manager, Scott Nelson, while working at Nisonger. My role on the project was preparing learning materials for the curriculum, through which I was introduced to Ashley Miller's Affordable Learning Exchange (ALX) team, the then-ODEE, and the Innovate conference. I was inspired to pursue my master's degree in Learning Technology. Before I finished my degree, I joined the College of Veterinary Medicine's Office of Teaching and Learning as an instructional designer, working under Dr. Melinda Rhodes-DiSalvo, who went on and served as an Associate Director at the Drake Institute. I grew as an instructional design practitioner and was able to explore and specialize in the role. Finally, toward the end of 2021/start of 2022 Scott reached out and encouraged me to apply for my current position, and the rest is history.
Q. Why did you choose to work at Ohio State? I've found the pace of work and the interdisciplinary, collaborative environment at Ohio State to be good fits for where I am in my career, and the tuition assistance benefit is a plus.
Q. Of what are you most proud? I would have to say that I am the proudest of my growth in each of the positions I have held thus far.
At the Nisonger Center, I learned about instructional design / instructional technology as a profession and actively worked toward it.
At the College of Veterinary Medicine, I luckily had amazing mentors and opportunities to dip my toes into a variety of roles, including course design, AV implementation, tech support, curriculum development, eLearning material development, research, and learning analytics.
At OTDI, I have thus far had the opportunity to work on a large, cross-functional team and experience enterprise project management as well as (remote) communication flows. I hope to continue to learn, develop, and refine my career goals.
Q: Where did you go to college? My undergrad degree was from Ohio Wesleyan in Delaware, OH, and master's degrees from Ohio State.
Q: Where are you from originally? I am originally from New Taipei City, Taiwan! I moved to Massachusetts with my family when I was 14, finished 12th grade in Taiwan because the family moved back, went to Ohio Wesleyan for undergrad, and have been in Ohio since.
Q: What is your favorite place to visit? Other than the places I have lived, I especially liked Keystone, Colorado. I got to go twice for InstructureCon and enjoyed the scenery in between conference sessions. I am not good at skiing at all but would love to visit again when there is snow on the ground, as long as I'm not driving.
Q: If you could travel anywhere in the world, where would you go and why? I have seen YouTubers traveling to the North Pole and it seems pretty quiet and serene; perhaps a bit pessimistically, I would like to see the glaciers and icebergs before they disappear. If it can be a fantastical location, then I would say Atlantis - if we can travel there, then we can travel farther in space, either by building better spaceships or … by Stargates. Right?
Q: Can you tell us about your family? My family lives in Taiwan. My mom does ballroom dancing as a hobby. My dad has retired and likes to play table tennis. My brother works as a Project Manager at an IT company in Taiwan and has practiced martial arts for many years. Life in / near the capital city is relatively crowded, loud, and fast-paced, and my family takes advantage of opportunities to enjoy the small things in life, like discovering new restaurants, enjoying afternoon coffee and desserts, and visiting my mom's family who live in an area known for its beautiful mountains, rivers, and plains.
Q. Do you have any hobbies? Most of my current hobbies are quite typical – getting into new shows, playing video games, enjoying my morning coffee. I do play the piano for fun, and I also enjoy singing (are there any good Karaoke places left in Columbus?) I would like to read more, and I am interested in exploring crafting projects to get into. 
Q: What is something most people might be surprised to know about you? I have played the piano since I was in kindergarten, and I was certified under the Yamaha system up to the level right before I could teach; I unfortunately stopped taking lessons when I moved to the States. I accompanied a musical revue back in high school, and it was a lot of fun. I used to be good at math and placed top three in national competitions in (mental) abacus calculations in elementary school.  
Q: Favorite place to eat in Columbus? A lot of my favorite places closed unfortunately. Hongkong House had the best Szechuan fish dish. 868 Asia Cuisine and Shabu Shabu had Taiwanese dishes, including stinky tofu. If I must pick one, it'd have to be Sunflower Chinese Restaurant for their dim sum, which are small Cantonese dishes typically served during brunch time.
Q: Best concert you've ever been to? I have not gone to many concerts, but I would have to say seeing Ben Platt in 2022 was amazing!
Q: Favorite quote? My mom has a great quote for after indulging in good food: "Start dieting tomorrow," except the same will be said tomorrow, and so on.
Q: Do you have a favorite book or movie? I don't have a favorite book, but I do have a list of top three favorite movies: Twister, What Dreams May Come, and in third place, a three-way tie currently between Everything Everywhere All At Once, The Fifth Element, and Till We Meet Again (a Taiwanese movie that came out in 2021).
Q: Give three adjectives that best describe yourself. Empathetic. Analytical. Dependable.