Employee Spotlight
July 2017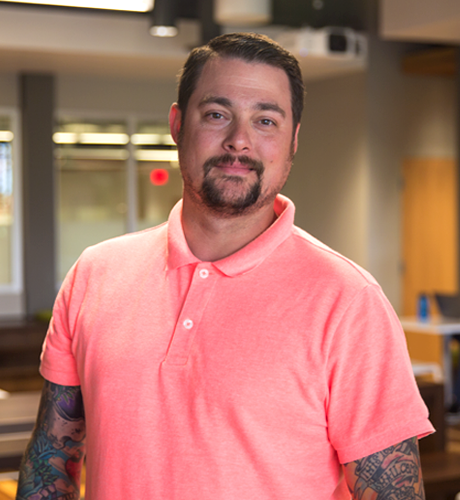 Assistant Director of Learning Environments
He's an Assistant Director of Learning Environments who worked his way up from a student AV tech position. This rock-star-turned-family-man provides support for advanced learning technology in hundreds of classrooms as well as labs and Digital Unions at Ohio State. After hours, be sure to ask him about his latest home brew or taco recipe.
Q: What is your role at the university? I am currently the Assistant Director of Learning Environments. I oversee the teams that provide direct computing and AV support, incident response and request fulfillment in 360 classrooms, eight labs and five Digital Unions across campus. We support basic design needs as well as innovative spaces that support evolving pedagogical needs. Each classroom is designed with a minimum standard that includes computing and an AV system, and in many cases additional technology such as SMART Podiums or document cameras that can be used as tools in the classroom.
Q. How did your career path bring you to work for us? As a freshman in 1997, I was looking for a way to make a little spending money and work between classes on campus. A friend of a friend directed me to the "AV group" in Lord Hall. The department was then called University Technology Services, and the unit was called Applied Technology Services. I was hired on the spot as what was then called an operator. An operator's job was basically a projectionist. I would set up 35mm slide shows and 16mm films to be shown in class. I would also set up computer carts in one of the eight rooms on campus that CRT video projection systems were installed. From there I volunteered to do pretty much anything that was needed. Within a year I was hired on full-time as a Systems Specialist. I became the Classroom Helpline Coordinator (HELPLINE 4 LIFE) and maintained that position for about six years. From there I wore many different hats within the organization. I worked in AV installation and design, Media Services for a brief stint, then on to manage Classroom Services, and that brought me to my current role as Assistant Director of Learning Environments.
Q. What do you do for fun outside of work? I find all kinds of ways to keep myself busy. I play drums in a rock band. My current project is still relatively new, but we just finished recording a five song EP. My previous band did a lot of touring and played across the country. But as soon as my daughter Eva was born in 2013 I had to stop doing that. And now with the arrival of my son Chase last March, the rock and roll thing has taken back seat to family life. But I still enjoy playing. I also have been a home brewer for nearly 15 years now. That pretty much coincides with my love of cooking. My current obsession is tacos.
Q. Why did you choose to work at Ohio State? I didn't choose to work at Ohio State; Ohio State chose me! But really, when I began working here eons ago, I did not expect that I would stay here as long as I have. But Ohio State is an amazing place. I often tell people that there is so much more than football here, although that is a pretty awesome benefit! I've been given some amazing opportunities and been part of some truly amazing things. I've seen the evolution of technology change teaching right in front of my eyes, and I have been lucky to be a part of that. Working in classrooms has afforded me a real connection with the university. Students come to this institution to learn, and a large share of that learning occurs in the classrooms we support using the tools that we provide. So there is an expectation that the classrooms be as top-notch as the university in which they reside. And that drives me. It excites me. I love this university, and I love being a Buckeye. I couldn't imagine working anywhere else.
Q. Of what are you most proud? In 2013, as manager of Classroom Services, I was asked to begin a maintenance program for our classrooms. The idea was to find and resolve problems in the classrooms proactively before an instructor needed to report it, which could cause loss of class time. I worked with the Learning Systems team to develop a tool to track the weekly progress. Our goal is to reach every single room on campus at least once a week. With campus divided into six zones with student incident response specialists stationed at an office in each zone, we are able to do that. The result over the past two years has resulted in a reduction of faculty-reported incidents by nearly 50%. This has had an enormous impact by reducing the downtime of technology needed for class use and allowing faculty to confidently teach as planned.