Employee Spotlight
September 2020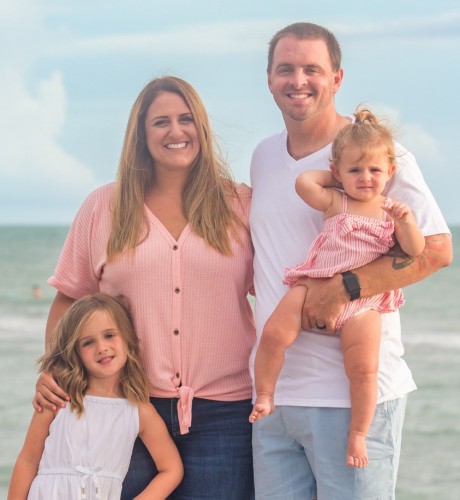 Senior Solutions Analyst, Web and Mobile
Meet Andrew, a creator of web and mobile solutions who loves making an impact for students. Most recently, he's been working on the health reporting addition in Compass and the Ohio State app to help keep the Buckeye community safe and healthy. Originally from the Home of the Truckers, Andrew is now enjoying family adventures (and Condado Tacos) in Columbus. When you see him in your Zoom call, ask about the pickle and salsa selections derived from his home garden!
Q: What is your role at the university? I'm a Sr. Solutions Analyst for the Web and Mobile Team.
Q: How long have you worked at Ohio State? 3 1/2 years
Q: Have you worked on any large projects since you've been here? I've worked on a couple including the Wellness, Alumni and Discover Apps along with Compass.
Q: What does a typical day look like for you? We've been working on the health reporting addition to Compass and the Ohio State app. Typically, my day starts around 5:30 in the morning answering emails and gathering notes/thoughts for the upcoming meetings during the day. Most of the day is spent on a Zoom call with one of our business partners or with the development team as we work through new features or working through a bug.
Q: What do you like best about your job? The best part about my job is working on a team that is made of truly exceptional and highly skilled people who get to work collectively to make an impact for all students, faculty and staff.
Q. How do you create and innovate? With a part of my job being to help find a new solution or help find where we can improve an old one I try to get down to the 'why' something may be a problem and streamline the process flow. I then gather input from my team on how they would solve the problem to ultimately come up with a solution. Then we continue to mold that solution during the software development process until we launch the solution. Once we launch a solution, we always come back to it and improve upon it so we can ensure the end user is getting the best experience they deserve.
Q: Did you always know this is what you wanted to do as a career? Not at all. When I was a kid, I wanted to either be a firefighter or astronaut
Q. How did your career path bring you to work for us? I would like to think every job happened for a reason to get me here but I've worked in the solar industry, county and state court system, working with companies in New York and London to scrub black car invoices and how a lot of people here know me originally is IT recruiting.
Q. Why did you choose to work at Ohio State? I wanted to make an impact on students' lives.
Q. Of what are you most proud? My wife, who persevered through nursing school while being pregnant twice to finish and become a nurse at Ohio Health.
Q: Where did you go to college? Bowling Green State University
Q: Where are you from originally? Norwalk, OH, Home of the Truckers, yes our high school mascot was a semi-truck :)
Q: What is your favorite place to visit? Dubai for sure. When I was in the Navy, we went twice and I was completely awestruck by everything there from the architecture to the lifestyle.
Q: If you could travel anywhere in the world, where would you go and why? I've always wanted to go to Ireland but haven't made it to the northern European countries.
Q: Can you tell us about your family? My wife Callie and I have two daughters, Adalynn (5) who starts kindergarten this year and Raelynn (1) who definitely keeps us on our toes. I can't forget Kona our 1 ½ year old German Shorthaired Pointer who never tires out.
Q. What do you do for fun outside of work? Do you have any hobbies? Outside of enjoying time with my family, I do have quite a few hobbies (too many from what my wife would say). I do have a decent size garden where I grow hot peppers, tomatoes and cucumbers. If you've been on a Zoom call lately with me you will see the giant wall of pickles and salsa that I canned. Also, I enjoy golf, amateur woodworking, archery and doing Crossfit workouts.
Q: What is something most people might be surprised to know about you? I was in the Navy out of high school as an Electronics Technician (ET) where I worked on radars and identification equipment prior to going to school at BG.
Q: Favorite place to eat in Columbus? Condado Tacos for sure, you can never really go wrong with a solid taco joint.
Q: Favorite quote? "Keep your eyes on the stars, and your feet on the ground." - Theodore Roosevelt
Q: Do you have any favorite books? Non-fiction: Extreme Ownership by Jocko Willink and Leif Babin; Fiction: Any of the three books by Jack Carr
Q: It's 9 p.m. on a Saturday. What are you doing? Either enjoying some bourbon or finishing a workout in my garage.
Q: Give three adjectives that best describe yourself. Driven, Caring, thoughtful