Employee Spotlight
June 2019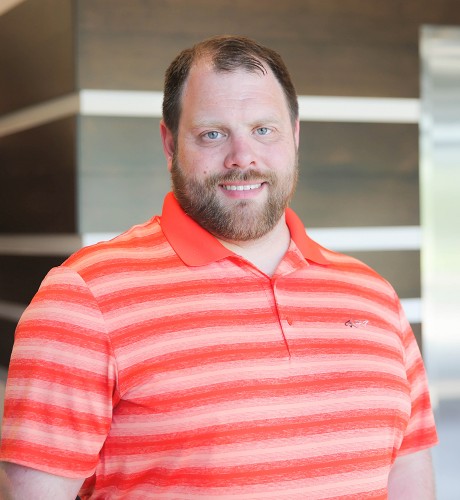 Meet Andrew, a data protector by day and a dog dad by night. He likes working with his team to secure university accounts and spitball crazy ideas that often lead to feasible solutions. This former TBDBITL member is forever a Buckeyes fan. Outside of Mount Hall, you might find him rooting on the men's ice hockey team or enjoying some local cuisine at Gallo's Kitchen.
Q: What is your role at the university? I am a Security Engineer for Enterprise Security. I focus on protecting and securing the university's most critical accounts.
Q: How long have you worked at Ohio State? I began working at Ohio State in 2013.
Q: What does a typical day look like for you? My primary focus is helping new university departments begin using the Privileged Access Management Service. When I am not working directly with other departments I am working with the rest of the Identity and Access Management team to integrate our services, making it easier for university departments to manage accounts and identities. 
Q: What do you like best about your job? I like knowing that the work I do protects the data and the reputation of my Alma mater.
Q. How do you create and innovate? I like to talk with my team members about problems and crazy ideas. These conversations often lead to great ideas that we can develop into new services or features. 
Q: Did you always know this is what you wanted to do as a career? No, I wanted to be a pilot, and graduated from the Ohio State Aviation program with my Commercial Pilot's license. Due to the recession I began working for an Aviation software company after graduation.
Q. How did your career path bring you to work for us? During college, I worked part-time at a small used computer store. When I began at the software company, I took on many IT responsibilities. Eventually I began working at the Ohio State Wexner Medical Center as a desktop technician and engineer. I became interested in Information Security while being involved in the creation of Ohio State's Information Security Standard.
Q: What was your very first job? I worked for a Canoe Livery outside of Cincinnati for a few summers during high school.  
Q: Where did you go to college? The Ohio State University
Q: Where are you from originally? Cleveland, Ohio
Q: What is your favorite place to visit? The Monterey Bay area of California
Q: Can you tell us about your family? I married my wife Melanie three years ago, and we recently rescued a German Sheppard puppy.
Q. What kinds of things are you passionate about outside of work? I am a huge Buckeyes and Ohio sports fan. We regularly attend Ohio State men's hockey games, and recently upgraded to season tickets.
Q: What is something most people might be surprised to know about you? I was in The Ohio State University Marching Band while in college. I worked as a student manager and recorded our performances from the press box.
Q: Favorite place to eat in Columbus? Gallo's Kitchen
Q: Best concert you've ever been to? Fallout Boy
Q: Favorite quote? "Being ignorant is not so much a shame, as being unwilling to learn." ― Benjamin Franklin
Q: Do you have a favorite book or movie? Jaws
Q: Give three adjectives that best describe yourself. Passionate, ambitious, self-sufficient