Top Projects
Distance Education Enrollment Plan
Timeline: FY16 - FY20
During Spring 2015, OAA, academic units, Enrollment Services, and ODEE partnered to develop a five-year enrollment plan for distance education. Distance Education is woven into the fabric of the institution. ODEE's role is to manage the five-year enrollment plan initiative, while respective partners and stakeholders are expected to meet the goals identified in the plan. Much of the FY17 work will be supporting academic units and student support units to meet their FY17 goals and be set-up for FY18 and FY19 success.
Managing the plan is necessary to achieve enrollment goals bringing net new students and new revenue sources to the institution. University staffing and growth plans are based on projected institutional revenue, thus meeting or exceeding goals are of great importance. Additionally, distance education is supporting university goals for student affordability, access and success as student experiences and expectations continue to evolve in higher education.
Distance education programming at Ohio State will grow from 10 online programs to 35 and from 470 students to 3,000 by FY20. Achieving and maintaining enrollment and revenue goals will allow the institution to maintain projected university financial and personnel resources.
FY17 SUCCESSES:
Moved programs forward:

3 online programs fully approved [BioEthics, Pharmacology, Healthcare Innovation]
4 programs in the approval process [BioMedical Informatics Cert (221+ days), School Nurse Pupil Services Cert (133+ days), School Nurse Wellness Coordinator Cert (133+ days), BioEthics Cert (45+ days)]
2 program MOUs signed [Social Work, Nursing School Health Services Cert]
7+ programs starting the MOU process [Actuarial and Quantitative Risk Management, Business Analytics, Public Affairs, One Health, EHE Program Evaluation, Sports Journalism, eSports, Nursing certificates]
1,604 total students in online programs in FY17, up 7% from FY16

50 states approved for online education; Out of state education policy approved and advisement structure formalized; submitted required NC-SARA reports
US News Rankings: #3 for Nursing, #8 for bachelor's, #18 for engineering; developed reporting process
Note, Ohio State had 56,298 total online enrollments across 1,434 online offerings during FY17 (9% of all enrollments)
FY18 GOALS:
5 new online programs; continue toward enrollment plan of 35 programs, 3,000 students; strategic conversations of where the university wants to go with its programs
Advance provost's vision for online education: to support innovative online offerings, to reach location bound Ohio State students, and enhance effective best practices for online education
Realize a comprehensive quality assurance process for online courses and programs with university partners.
Risks: Because the five-year plan is woven into the fabric of the institution, factors outside ODEE's control, such as college curricular decisions and direction, university approval processes timelines and non-distance education activities outside Ohio can adversely impact revenue and university support plans.
Benefits: Continued staffing, growth and revenue generation for ODEE, OAA, and colleges participating in the plan.
ODEE: Robert Griffiths, Associate Vice President, Distance Education | Jen Simmons, Director, Distance Education
OAA: Randy Smith, Vice Provost for Academic Programs
Enterprise Project
Timeline: Initial processes expected to go live beginning in 2020
The Enterprise Project is a business process transformation and system implementation that will leverage Workday and other enterprise technologies to advance Ohio State's Time and Change strategic plan and teaching, research, service and patient care missions.   
It includes optimizing finance, HR, payroll, student services and IT business processes; replacing core administrative systems (currently PeopleSoft) with Workday; and improving decision-making through a single source of trusted administrative data.
Modern systems. More efficient processes. A better work day. 
At its core, the Enterprise Project will change the way the university does business. By leveraging modern systems and more efficient processes, Ohio State faculty, physicians, staff and students can spend more time on mission-driven work, and less on administrative tasks. 
Our current administrative systems are outdated and inefficient. They cause inflexibility in business processes, and business and technical risk due to their age and customization. Updating these systems and the processes together provides tremendous opportunity to move Ohio State forward. 
Resources for resourceful people.
Your time is important. Period.
The Enterprise Project will give you tools and resources to maximize your time in the classroom, laboratory, hospital or office. Through improved self-service tools and easier access to trusted business data, you will truly be able to make the most of your day.
A single system for the entire organization.
Ohio State is implementing Workday for the university and Wexner Medical Center's financial, human resources, payroll and student information systems. That means one system for all of your Ohio State business support needs: one version and one experience for one Ohio State community. 
Key Drivers
When the university community assessed the need to replace the current Financial, HCM and Student Information systems, a set of key drivers or reasons to consider moving to a new modern system emerged.
Frustration with current business processes and systems
Desire to improve business processes and systems
Desire to adopt the most modern state of the art technology
Access to well-defined data and reporting for real-time decision making
Enhanced student experience
The ability to influence the Workday product
Desire to empower employees and managers through self service
At the conclusion of the Enterprise Project, the university will have standard business processes and effective business process analysis and will provide effective, consolidated BI, analytics and reporting. We will have streamlined processes, efficiencies and cost reductions for the entire university community. Additionally, the project will support unqualified financial audits
FY17 SUCCESSES:
Acquired Enterprise Workday functionality
Successfully Transitioned from the Financials Project to the Enterprise project
Completion of Plan and Foundational Design for the project:

Establish the strategic direction for transformation opportunities
Define for each business function where it falls on the Systems Implementation/Business Transformation  Continuum
Identify the key changes per process that will occur and the impact to the university community constituent groups
Identify the necessary enabling capabilities (integrations, conversion, business intelligence, analytics and reporting)
Confirm the Project Scope
Baseline the Project Budget
Finalize the Deployment Schedule and Release Strategy
Identify and mitigate the key deployment risks
Build the Project Team
Build the Foundation Data Model (FDM)
Define the on-going system support and operations model
FY18 GOALS:
Complete detailed design of processes and systems in Architect Phase
Complete Operational Design for ongoing support functions
Benefits: The vision of one university community, one set of business processes, one enterprise system, and one chart of accounts
Significant frustration with the current business processes and systems
The desire to improve current business processes and systems
The desire to adopt the most modern state of the art technology
Access to well-defined data and reporting for real-time decision making
Enhanced student experience
The ability to continue to influence the Workday product
Desire to empower employees and managers to do more through self service
Risks: The Enterprise Project has identified several key risks.  The team will continually assess these risks and ensure that mitigation strategies are in place to reduce the opportunity for these risks to become project issues.  Risks along with associated impact, probability and mitigation strategies will be tracked in the risk log for the project. The key risks include:
The university community is not able to take over the system after stabilization due to not having the necessary Workday Enterprise system knowledge
Decisions by project leadership are not made in a timely manner, thereby causing delays
All scope items are not identified due to institutional complexity which could drive impacts to the schedule and/or budget
The university's end-user community cannot effectively implement change, standardized business processes and any resulting policy changes
The organizational changes within the business units driven by future-state business process designs are not implemented in alignment with the Enterprise Project release schedule causing an impact to the schedule and/or budget
Demand on resources supplied by the university community exceeds their capacity and leads to time delays, reduced scope or demand for more consulting resources
The Enterprise Project Governance Structure is comprised of Process and Business owners, Business Advocates and Executive Sponsors.
Refer to the Enterprise Project site for the latest timing information.
University IT Strategy
Timeline: FY18-20
The University IT Strategy is a collaborative effort by central and distributed IT leaders at Ohio State to co-invest in solutions that deliver a more seamless technology experience for students, faculty and staff.  The Strategy identifies 7 investment areas that, taken together, will modernize the campus IT environment and support the University's Strategic Plan.  The areas are: Mobile First, Analytics, Empower Teaching Innovation, Advance Research, Lean IT, Effective Risk Management and Develop Talent.  The 4 goals under this OCIO Top Project will strengthen central/local IT partnerships and make significant progress towards a more seamless technology experience.
We must work in partnership across the university to provide a modern, seamless technology environment for students, faculty and staff.
Seamless technology experience for students, faculty, staff, visitors
Stronger central/local IT partnerships
Excellence in resource investment and stewardship
IT as an enabler for the University Strategic Plan
Improved technology experience, partnership approach to providing the right IT at the right levels, decreased cost for some types of IT expenses.
Risk of driving forward efficiencies without providing an improved more modern experience.
Bob Corbin, Diane Dagefoerde, Tracey Richardson, Joe Roush (Education and Human Ecology), Tim Smith (Arts and Sciences)
FY18 GOALS:
Modernize the campus environment.
Help IT staff attain cloud certifications.
Phase out local server rooms and data centers.
Govern the IT Strategy.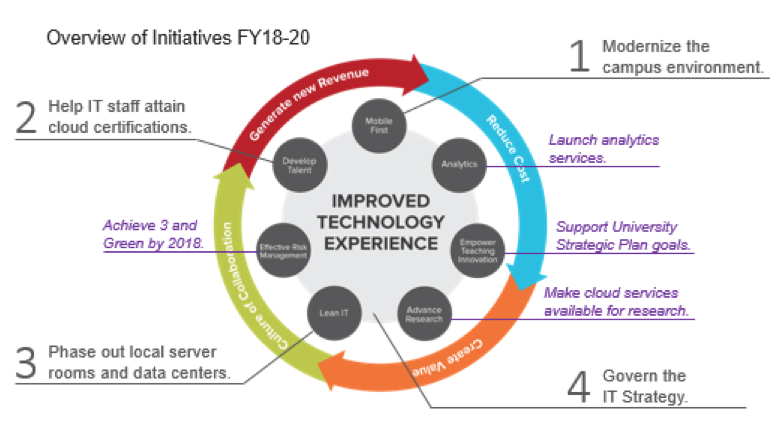 Three and Green in 2018
Timeline: End when the college/unit self-assessments show risk areas are being managed to an acceptable level (predicted by end of FY18)
This effort continues the work started in FY15 to bring the university to acceptable levels of managing information risk, in order to address information security threats to our systems. It includes work such as: moving data centers to the SOCC, stopping email forwarding, addressing email retention, and consolidating networks.
Not only do external regulators require that our health, financial, student and research data be securely managed, our students and partners have an expectation of data security that must be met.
This effort will ensure we can demonstrate that we are managing information risks according to regulatory requirements, and should result in fewer unplanned data incidents.
FY17 SUCCESSES:
November 2016:  University achieves an average of "3" for all risk areas. 
Began meeting with all Deans, SFOs, IT Leads and Liaisons to fully understand and support their remaining security strategies
Began implementation of Information Security Self Assessment, which will replace the Survey after FY18
FY18 GOALS:
FY18:  Focus remains on reaching "Green" for all risk areas
Complete the Unit Leadership meetings
Finalize the implementation of the Information Security Self Assessment – moving from "Compliance" to "Effectiveness"
Risks: Regulators can level fines for non-compliance, the university can incur significant additional unplanned expenses to remediate data incidents.  Our ability to receive federal funding for student financing, or research, may be at risk.
Benefits: Positive outcomes include more efficient operations, lower costs for external audit response, decreased incidents, improved technology capabilities and demonstrating management of risk to regulators.
This is being managed by colleges and units as an ongoing governance initiative overseen by the Board of Trustees, and as such, there is no need for a project manager.
Access and Affordability
Timeline: Content Camp and Engage pilots will be completed in FY18, and research on the success of affordability initiatives will be published in FY18.
This program brings together resources and partnerships available to faculty towards making their courses more affordable. We offer various grants through this program to help faculty explore affordability options such as the adoption of open textbooks, utilizing open content or licensed material through our libraries. We are also exploring new approaches to student savings in FY18, which include two pilots:
Engage, delivering low cost, day one access to publisher content
Content Camp, faculty collaboration to build test banks to support open textbook adoption
We want to support President Drake's goal of making college more affordable for our students. We also want to facilitate OSU being a leader in this arena, saving students money, helping faculty adopt/adapt material at low or no cost.
Success includes long-term financial savings for students, recruitment for grant cohorts, ongoing project support, and continued progress toward $10M by 2020 goal. Successful pilots, lessons learned and plans to continue.
FY18 GOALS:
Complete cohort 2, which includes 14 projects saving $500K annually
Recruit and support project development for cohort 3
Total savings reached in FY18 will be $3M
Content Camp, support the development of 3,000 open assessment questions across 3 disciplines, assess long-term project opportunities and design future roadmap.
Pilot Engage tool – assess the feasibility of delivering low-cost textbooks to students through Engage digital reader, work with Unizin to address tool accessibility.
Benefits: Saving students a significant amount of money while supporting excellent pedagogical practices. OSU faculty influencing outside of Ohio State.
Risks: Not making savings goal, some content doesn't exist, is hard to source/create. Sustainability is an unanswered question.
Ashley Miller | Program Manager, Affordability and Access [miller.6275]
Analytics Services
Timeline: FY18-20
The Business Intelligence, Analytics and Reporting (BAR) workstream under The Enterprise Project will produce reports and dashboards in Workday and establish a Reporting and Analytics Environment (RAE) in Amazon Web Services (AWS) for dashboards, scorecards and enterprise data used with other reporting tools (e.g. Tableau) outside of Workday.   The Analytics Services top project extends these efforts by establishing ongoing service operations for the RAE, making both Workday and non-Workday data easier to find and use through a searchable data commons, and aligning related efforts university-wide under the Analytics investment are of the University IT Strategy.
The University Strategic Plan establishes goals with some specific metrics to achieve in five pillar areas.  Many types of university data are needed to show progress towards those goals.  This effort makes many of those data sets easier to find and use. 
Empirical research will play a key role in assessing the effectiveness of programs and actions that are intended to help the University achieve the goals of the strategic plan.  This effort will make it easier for researchers to find and use university data in formats that are best suited for research. 
It will take aligned, coordinated efforts by IT and analytics teams across all college and VP areas to ensure timely, consistent access to university data.  This effort ensures that the unique needs of each group are taken into account.
Reports, dashboards and scorecards defined under the Enterprise project are launched successfully with each go-live.
On-going services that support the RAE environment, including Tableau, the Data Lake and Enterprise Data Warehouse are in place.
It is easier for analysts and researchers to find and use university data, including existing analytics centers of excellence.
FY18-20 GOALS:
Define Analytics Services to be launched FY19-20 that are out of scope for ongoing Workday Enterprise Operations.
Make it easier for you to find/use data (e.g. Data Commons).
Use the Running Lean approach to defining these new services.  Focus on making you awesome.
Launch new Analytics Services FY19-20.
Refine Analytics investment area of University IT Strategy. 
Key Benefits: 
No more Trick-or-Treat approach to finding data. 
Time to insight reduced. 
Reporting accuracy improved.
Risks:
Establishing a sustainable funding model for RAE and related services
Managing data definitions, access and security.
Steve Fischer, Diane Dagefoerde
FY18
Refine the Analytics Investment area with College/VP IT and analytics teams.
Define which BAR services are rolled out under Enterprise Operations and which BAR/RAE services are rolled out under Analytics Services.
Set up services for ongoing operations; identify ongoing funding needs and models.
Use the Running Lean approach to set up the services.  Complete problem interviews with end users to inform service design.
FY19-20
Roll out services aligned with Workday go-lives.
Digital Flagship
Timeline: FY18-22
The Digital Flagship initiative provides all students at a major public university with a consistent, best in class mobile tablet ecosystem to enhance their learning, research, and life experiences while on campus and beyond. This program strives to not only improve the current day to day experiences of our students, but also provide them with skills to better prepare them for the modern mobile workforce, focusing on mental & physical wellness as well as digital, information, and financial literacies. As technology start-ups and industries continue to grow and flourish in Columbus, and Ohio as a whole, this initiative looks to increase Ohio State student talent and skills in the area of coding and entrepreneurial app development to ensure innovation and creativity blossoms across our communities both near and far. 
This initiative is focused on the student experience with a heightened effort to provide Ohio State students with the best experience possible while enrolled at the university, while at the same time providing them skills and experiences that will prepare them for their future careers. 
Initial success will be providing students with an iPad and outstanding support around their user experience. Long term success will be integrating coding across the Ohio State community and fostering a culture of technology innovation and entrepreneurship. Additionally, future years will focus heightened faculty engagement with existing eLearning tools and embracing a mobile teaching and learning ecosystem. 
FY18-20 GOALS:
Pilot and implement systems, policy, resource, and processes for student iPad deployment.
Create initial coding curriculum options for Ohio State community.
Develop plan for enterprise app development and iOS design lab. 
Key Benefits: 
Committing to our students and providing a new value add to the university experience.
Establishing a new focus on workforce development across all major programs and campuses.
Creates new student recruitment and private sector business partnership opportunities.
Further enhances Ohio State's standing as a premier public university. 
Risks:
Unknowns to providing students with university owned technology.
Establishing systematic on ramp for coding education and iOS app development
Cory Tressler – Program Owner
Michael Hofherr, CIO – Program Sponsor
Liv Gjestvang, AVP – Program Sponsor
Michael Drake, President – Program Executive Sponsor
Bruce McPheron, Provost – Program Executive Sponsor
FY18
November 2017 – Apple DEP system in place

January 2018 – Student iPad pilot

May 2018 – 1st year student iPad deployment at Columbus campus