Pronoun Selection and Name Pronunciation in CarmenCanvas

Did you know you can make your course more personal for your students? Take advantage of two different tools within CarmenCanvas that give you and your students the option to share personal pronouns and proper name pronunciations. These tools aim to be inclusive of our diverse student population and help customize interactions between course participants.
Canvas added a new feature within the Account Settings menu: a simple, yet powerful pronoun field. Instructors and students can now designate their personal pronouns, giving them the ability to share with others how they should be addressed.
Instructors and students can choose from a variety of inclusive options, or they can opt to leave the field blank. Anyone who takes advantage of this feature will see their selected pronouns alongside their name throughout Canvas, in all their courses. This means you will start seeing students' pronouns attached to their names in places like People and Discussions. There is nothing to enable or turn on—simply let you students know that this option is now available to them and consider including your own pronouns.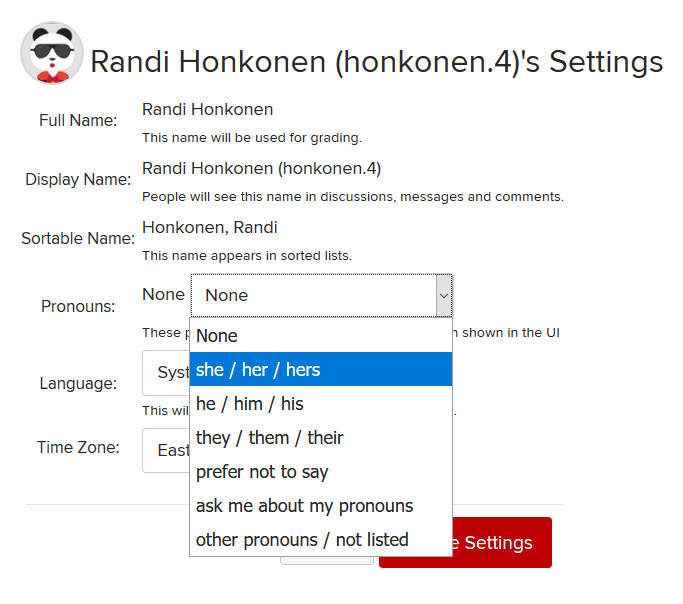 As an instructor, you also have the option to enable NameCoach in your course to make your students feel even more welcome. NameCoach allows students to record themselves pronouncing their own name, which can help you address your students in class. Using correct pronunciation in person or virtually through CarmenZoom can help you create a more personal connection with your students.
Recordings for name pronunciations are available in the NameCoach tab if enabled in your course. Student recordings are also available across courses with NameCoach enabled, so names only need to be recorded once. Students can also write in their own pronouns in the NameCoach tool, but pronouns entered in this way do not travel through the rest of the course.
Graduation Services is already using NameCoach to improve the commencement experience, and you can bring this personal touch to your classes as well. To enable the tool in your course, go to Settings, select the Navigation tab and then drag NameCoach into your course navigation – don't forget to hit save!