New Reporting Tool Rolling Out to Ohio State
One component of Ohio State's future data architecture, Tableau Server, will be available university-wide beginning Monday, October 8. Tableau Server is a reporting platform that will support shared data visualizations and analyses throughout the institution.
The Business Intelligence, Analytics and Reporting (BAR) team, in coordination with the Enterprise Project, has been facilitating a pilot program of Tableau Server since April 2018. Data analysts and report users from 12 different colleges and units have been able to familiarize themselves with Tableau Server's capabilities by uploading their own data sets and experimenting with the tool.
Sarah Murphy, a professor and assessment coordinator for University Libraries, led the Libraries' participation in the pilot program, as she has been working with Tableau since 2012. Murphy has created data visualizations to illustrate the number of library visitors over time, the availability of shelf space in Thompson Library and the ratio of foreign language texts in Ohio State's collection. These data visualizations inform decision-making in University Libraries by presenting data in an easy-to-understand format.
"If you can create visually engaging graphs, you can quickly see the take-aways, rather than going through lines and lines," says Murphy. "'Dressing' your data makes it a little more interesting and makes presentations more engaging."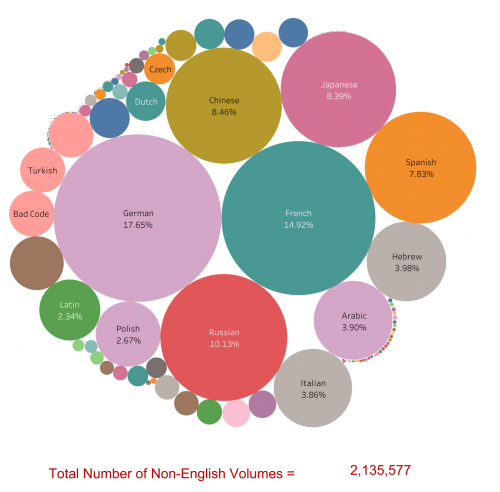 Murphy also leads Ohio State's Tableau User Group. The group is an ongoing forum for faculty and staff interested in learning more about Tableau and sharing best practices. A handful of the members, including Murphy, now serve as Tableau Project Leaders for their respective college or unit. Project Leaders are the first point of contact for faculty and staff interested in gaining Tableau access. The Project Leaders will also help answer data security questions and relay Tableau updates for their areas.
"I think Tableau will help more people understand what data is out there, and use it to do their job better," says Don Callahan, a Project Leader for University Advancement, who has been leveraging Tableau to analyze donor gifts against annual giving records and goals.
Tableau Server will be one of several common tools to help Ohio State champion transparent and trusted data.
"We're starting to shift the discussions from complaining about data to captivating the audience to pay closer attention," says Liana Crisan-Vandeborne, a Project Leader for the College of Arts and Sciences. "It's amazing."
For additional information about Tableau, please visit Ohio State's Tableau webpage, contact your area's Project Leader or contact the Tableau administrators at cio-tableauadmin@osu.edu.