Employee Spotlight
October 2017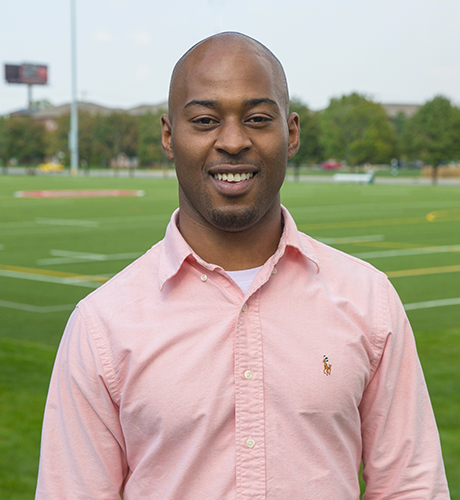 Systems Developer/Engineer
Meet Taiwan, an analyst and developer assisting the transition from PeopleSoft to Workday. He appreciates his coworkers and the diversity of the workforce at the university. This Buckeye fan for life is also the father of two spirited daughters. Outside of Mount Hall, you might find him camping, listening to classical music or supporting a youth outreach program. Learn more about Taiwan with this month's employee spotlight.
Q: What is your role at the university? I am a system analyst and developer in the OCIO.
Q: How long have you worked at Ohio State? I have been with the university for four and a half years.
Q: What are you currently working on? I am currently working on conversions and integration for the Enterprise Project. A typical day for me consists of reviewing the current PeopleSoft applications/data and analyzing how to advance the processes moving forward through innovation.     
Q: What do you like best about your job? The thing I like best about my job is the people. When I came on board with the university back in 2013, I was new to the field of application development. It didn't take long to get up to speed because everyone is always willing to share knowledge.
Q. How do you create and innovate? I create and innovate by learning to analyze and adjust. I first try to gain an understanding of the subject to determine the end goal or purpose. After gaining an understanding, I try to look at the process through as many lenses as possible.
Q: Did you always know this is what you wanted to do as a career? Yes; I was very intrigued by technology at a young age. A funny story that I tell people is that I was part of the last generation that had a childhood without internet technology, so I learned to truly appreciate it at an early age. My daughters take it for granted because they never had to live without it. They never had to go to the library and check out books to study—nope!—they just Google it! 
Q. How did your career path bring you to work for us? A classmate I went to school with was hired at Ohio State and referred me to the university.
Q. Why did you choose to work at Ohio State? I am Buckeye! I was born in Ohio at The Ohio State University Wexner Medical Center. I took summer classes at Ohio State and have been a Bucks fan since day one. The main thing that attracted me to Ohio State was diversity in the workplace, and the university is always leading the charge in new technology and innovation.
Q. Of what are you most proud? Outside of work I am most proud of being a father to my two daughters. They're always full of energy and life. They keep me young and drive me crazy at the same time.   
Q: Where did you go to college? Tiffin University
Q: If you could travel anywhere in the world, where would you go and why? I always wanted to travel to Egypt to see the Sphinx and pyramids or to Rome to see the Colosseum. Both are enriched in history and have been standing for many years, which I find very fascinating.
Q: Can you tell us about your family? I have been married to Aisha Russell for 11 years. I have two daughters (Shyla, Adaya). We also have a dog name Juice.
Q. What do you do for fun outside of work? I usually go camping and take runs with my daughters and the dog to the park for fun. I also enjoy grilling or anything that deals with eating!
Q. What kinds of things are you passionate about outside of work? I am very passionate about youth outreach programs.
Q: What is something most people might be surprised to know about you? I love listening to classical music on the way home from work even though I can't name a single song.
Q: Favorite quote? Imagination is the key to innovation.
Q: It's 9 p.m. on a Saturday. What are you doing? Watching cartoons and eating cereal with my girls.
Q: Give three adjectives that best describe yourself. Creative, Curious, Adventurous