Employee Spotlight
November 2017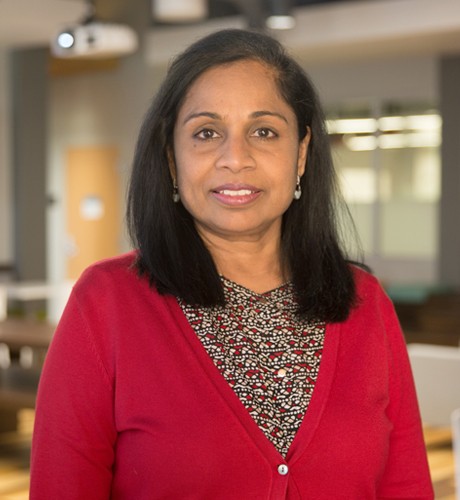 Conversion Manager, Enterprise Project
This former researcher is now the Conversion Manager on the Workday Enterprise Project team. As part of that role, Nalini is responsible for all aspects of the data conversion activities while collaborating extensively with other project teams. Nalini enjoys the university culture and seeing her work make a difference in the lives of students and employees. She's also a connoisseur of vegetarian food, both traditional Indian food and fusion recipes and is constantly cooking up delectable dishes.
Q: What is your role at the university? I am the Conversion Manager on the Enterprise Project. The Enterprise Project is a business process transformation and systems implementation initiative of Workday. The move to Workday from the legacy enterprise systems requires that the underlying current and historical data is transformed and moved to Workday and/or to the Reporting and Analytics platform in a compatible format. My team contributes analytical and technical skills and expertise to ensure that current and historical data will be available in a usable fashion in the new system to support the various business processes in the business areas.  We extensively collaborate with other teams on the project both at OCIO and business areas to meet these deliverables.
Q. How did your career path bring you to work for us? I started my career at Ohio State as a researcher and then moved to OCIO (then known as OIT) as a developer supporting HR systems. Since then I have been in the role of a technical lead for HR and for Student teams as well as a Functional Lead and Application Manager for the SIS system before moving into my current role.
Q. What do you do for fun outside of work? I like to socialize with friends, travel, watch movies, visit art galleries and cook. One activity that I enjoyed was going on the gallery hop in Columbus. I like to cook authentic Indian vegetarian food but I also like to be creative and experiment with creating fusion recipes that are easier to make or where I can add healthier, fun alternatives. So you might see leftovers of Celery Quinoa Pilaf or Tofu Peas Curry or Pita Pizzas if you happen to wander over to my desk during the lunch hour. :)
Q. On what project are you currently working? I am currently on the Enterprise Project. This is the largest project that I have been a part of and I enjoy being part of the project team and the challenges. A couple of past projects that were interesting and I enjoyed being a part of involved creating integrations supported for the 'Study Abroad' and 'Online Student Advising' functionalities.
Q. How do you create and innovate? I do believe that one can be creative and innovative in any role, so I look for opportunities to be creative in designing technical solutions, by looking for process improvement opportunities and in optimizing the utilization of various tools that our teams use.
Q. Why did you choose to work at Ohio State? I have always liked the research/higher education environment since I was a grad student at Iowa State University. When we moved to Columbus, Ohio, many years ago, Ohio State was my first choice to look for employment. I like the culture of a big university where I can hear well-known speakers, be exposed to a wide range of research activities, go to the Wexner Center for the Arts and attend international cultural events. I enjoy working at the OCIO. I am happy to be part of the Enterprise Project where the vision is to transform the way we do business with a single Workday system.