Employee Spotlight
October 2020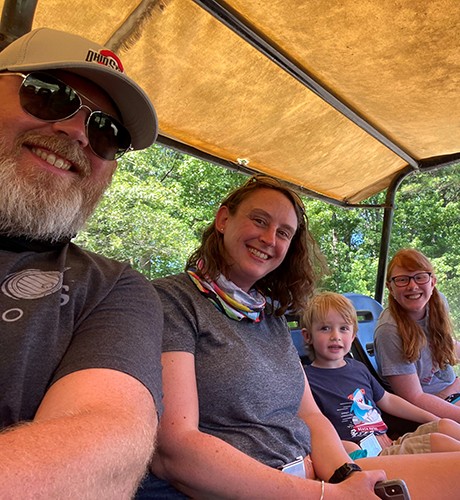 AVP, Enterprise Applications and Enterprise Project Director
Meet Mike, the one who's leading the Enterprise Project and bringing Workday solutions to Ohio State. He has over a decade of experience leading large upgrade projects at the university, and driving positive change for people is a passion of his. This former tomato-picker originally dreamed of serving in the military or the national park service, but found his way to Ohio State to serve students, faculty and staff. Outside of work you are likely to find him…outside! He might be camping or hiking with family, watching his daughter's volleyball games or hunting down live music opportunities.
Q: What is your role at the university? AVP, Enterprise Applications and Enterprise Project Director
Q: How long have you worked at Ohio State? Just under 13 years
Q: Have you worked on any large projects since you've been here? A few. :) I worked in the Office of the University Bursar when I was on my first project at Ohio State; we implemented PeopleSoft Campus Solutions. I joined OCIO shortly thereafter and have since been a part of the Semesters Conversion, HR/SIS Reimplementation and Upgrade, BuckeyeLearn implementation, and the Enterprise Project. 
Q: What do you like best about your job? I enjoy working with high performing, dedicated team members who are passionate about affecting positive change for our university. Opportunities to lead and affect change on the scale that is possible at Ohio State don't come along often. 
Q: Did you always know this is what you wanted to do as a career? While I love where I am in my career, you'll be surprised to learn I didn't daydream about working in the ERP (enterprise resource planning) space when I was a kid. I had always pictured myself in a service-oriented career and wanted to serve in the military or national/state park service. Either way, helping people and leading change have always been at the forefront; so, while not exactly as I had planned, I certainly get to do that on a daily basis.
Q. How did your career path bring you to work for us? As our former CIO Mike Hofherr has said, when the elevator doors of opportunity open, sometimes you have to get in and take a ride.
Q. Of what are you most proud? My children – they are pretty amazing little humans (and we owe probably 99+% of that to my wife, Tara).
Q: What was your very first job? My first paid job was picking tomatoes at a farm in Racine, OH, but I had several "unpaid internships" on my family's farm before that big break came along.
Q: Where did you go to college? I completed my undergrad at Northern Arizona University and my Master's here through the John Glenn College of Public Affairs
Q: Where are you from originally? Pomeroy, OH
Q: What is your favorite place to visit? Northern Arizona – Sedona and the Grand Canyon are two of the most beautiful places I've ever been and you can see them both in the same day. The desert truly is an amazing environment and the culture of the indigenous people of that area is fascinating. Tara and I were very fortunate that the Air Force provided an opportunity for us to live there for several years.
Q. What do you do for fun outside of work? Do you have any hobbies? We like to spend a lot of time outdoors as a family – camping, hiking, kayaking, fishing, etc. Lately, we've been spending a lot of our evenings attending my daughter's volleyball games. We definitely enjoy concerts and festivals, and have had to adapt to get that "live" music fix online since March.
Q: What is something most people might be surprised to know about you? I earned my bachelor's degree from Northern Arizona University in parks and recreation management believing I would be leading outdoor adventures in the desert southwest, not major transformation initiatives at Ohio State!
Q: Favorite place to eat in Columbus? The Kahiki… anyone have a time machine?  We live pretty far out of Columbus, but my newest favorite is Ghostwriter Public House in Johnstown.
Q: Favorite quote? The late, great Woody Hayes had several memorable quotes, but my favorite attributed to him is, "Paralyze resistance with persistence!"
Q: Do you have a favorite book or movie? Stand by Me (Stephen King) fills the top spot for both, with The Shawshank Redemption being a close second.