Employee Spotlight
January 2021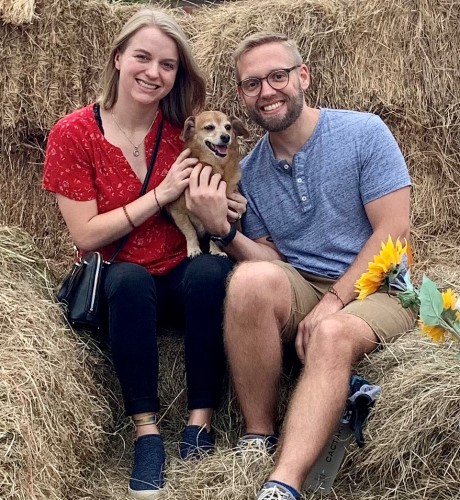 State Authorization Program Manager
Meet Justin, a Buckeye for Life who has gone from student to staff and now resides in Houston, Texas! He once dreamed of being a racecar driver, but fell in love with the rush of higher education. This former photoshop employee is now helping our State Authorization program develop. He truly enjoys taking on challenges and collaborating with colleagues across Ohio State. Outside of work, he likes to keep active—between hockey, camping, biking, bowling and planning a wedding, he's pretty busy!
Q: What is your role at the university? State Authorization Program Manager
Q: How long have you worked at Ohio State? Collectively, I've worked at Ohio State for about 7.5 years.
Q: What do you like best about your job? I've been only in my current role for a short time, but I really enjoy navigating through complex issues and relationship building with campus partners
Q: Did you always know this is what you wanted to do as a career? I fell into working in higher education by accident but have loved every second of it. When I was a kid, I wanted to be a racecar driver. I LOVED watching all kinds of racing, and thought the drivers and cars were all so neat and from a different world.
Q. Why did you choose to work at Ohio State? Being from Columbus, and an alum of Ohio State – once I knew I wanted to work in higher education, there was no other place I wanted to be other than Ohio State.
Q. Of what are you most proud? I am the first college graduate of my family.
Q: What was your very first job? I worked at Cord Camera in Columbus. I worked in the photo lab, so I was responsible for developing various types of film and then printing the accompanying pictures. Seems like a by-gone era now!
Q: Can you tell us about your family? My fiancée Rachael and I (we're getting married in April 2021) have two cats (Cricket and Holstein) and one dog (Mazie). The three of them keep us busy enough.
Q. What do you do for fun outside of work? I really like staying active, so a lot of my hobbies surround that. I played ice hockey growing up, and still play 2-3 times a week in adult rec leagues. I'm a goalie, and really enjoy the challenge of the position. I also am passionate about Pelotonia and have been a part of riding and raising money to end cancer for the last five years. We also like traveling, camping, and finding our next adventure.
Q: What is something most people might be surprised to know about you? My parents got me into bowling at the age of five to get my brother and I out of the house on Saturday mornings. I ended up being really good at it, and although I bowl maybe once or twice a year now, I can easily break 200 without too much effort.
Q: Favorite place to eat in Columbus? Two places (even though I now live in Houston, TX) – only because of the simplicity of it and the overall atmosphere. I loved going to Land Grant and hanging out in their beer garden and eating Ray Ray's; and likewise, there's a small brewery in Worthington called Random Precision. We would always get pizza from JT's Pizza across the street and take it to the taproom at Random Precision and hang out.
Q: Best concert you've ever been to? I've loved Blink 182 since I was in middle school, so I'm really biased, but anytime that I've seen them in concert.  
Q: Do you have a favorite book or movie?  Anything written by co-authors Douglas Preston and Lincoln Child. And movie has to be Back to the Future.