Employee Spotlight
July 2018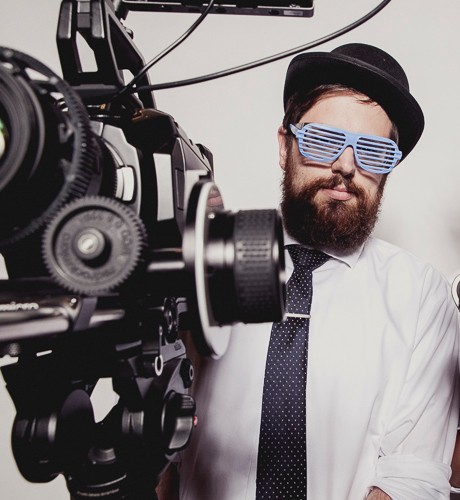 Senior Digital Media Producer
Meet Josh, a Media Producer for OCIO, ODEE and beyond. Originally from that country up north, Josh thrives in cooler temperatures and in a work environment with variety. This former pizza tosser loves that every day is different in his current role—from filming, to editing, to learning new skills. Outside of Mount Hall, you'll find him editing more video, filming a wedding or possibly enjoying some cheddar herb biscuits at Third and Hollywood.
Q: What is your role at the university? I work in Media Services as one of the Media Producers. Our job is to oversee the creation of digital media asset projects (videos mainly) for OCIO/ODEE and other partnering organizations.
Q: How long have you worked at Ohio State? About a year and a half.
Q: What do you like best about your job? I like that every day is very different. One day could be a shoot in the early morning or late evening, or it could just be a day of editing videos. Or, depending on workload, we can spend time catching up on a super fast-changing industry and figuring out how to implement new skills and techniques into our workflow.
Q. How do you create and innovate? Recklessly and often.
Q: Did you always know this is what you wanted to do as a career? As a kid, I wanted to be a lawyer. So naturally I went to college for music and then studied audio production. Through various odd jobs I landed in video production and that's where I've decided to stay for the time being. Who knows! Maybe someday I'll be appointed to the Supreme Court. In today's political climate, anything is possible.
Q. Of what are you most proud? I always feel most proud when I learn a new skill.
Q: What was your very first job? I worked super young in my parents' food truck fleet and pizza shop, but my first official job (not at my parents') was a farm hand at a local dairy farm. Lots of yard work and, um, waste management.
Q: Where did you go to college? Otterbein University.
Q: Where are you from originally? I was born in Northern Ontario, and was raised in Holmes County, OH.
Q: What is your favorite place to visit? Anywhere North. I don't do well in the heat and I long for snow and pine trees. I love Michigan, Washington, Maine and just about anywhere in Canada.
Q: If you could travel anywhere in the world, where would you go and why? I'd choose Antarctica in a heartbeat. There's something romantic about visiting a completely uninhabitable part of the world, and learning to respect an extreme of nature. I'm waiting for my opportunity to shoot a documentary there.
Q. What do you do for fun outside of work? Do you have any hobbies? I do a lot of work for myself so I am doing video production all day every day. In the precious moments that I have to spare I write and record music.
Q: What is something most people might be surprised to know about you? I dislike most things having to do with sports. If you ask me about "the game" last night I'll stare at you blankly.
Q: Favorite place to eat in Columbus? I am a huge fan of Third and Hollywood. I can't eat there often but I always enjoy the experience when I do.
Q: Best concert you've ever been to? It's a tie between Rush's 40th anniversary tour in Chicago and BNL with Ben Folds Five here in Columbus.  
Q: Do you have a favorite book or movie? My favourite movie is Blues Brothers and favourite book is probably Alice in Wonderland. This changes frequently but today, these are my answers.
Q: It's 9 p.m. on a Saturday. What are you doing? Getting ready to film the dance floor portion of a wedding, and drinking my sixth cup of coffee.
Q: Give three adjectives that best describe yourself. Independent, Skeptical, Driven.