Employee Spotlight
June 2018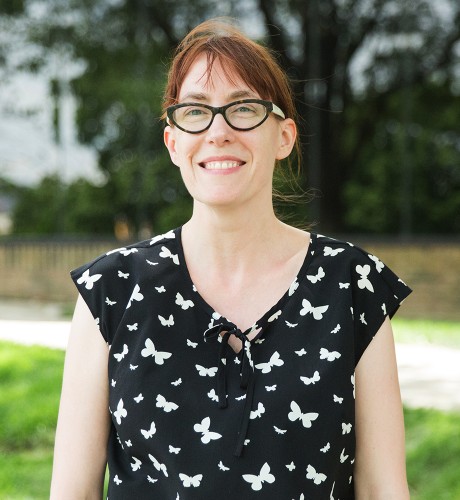 Support and Training Analyst
Meet Emma, a support and training analyst in ODEE. She's been with us nearly two years, and loves helping people navigate the tech landscape at Ohio State. A former table busser and roll butterer, Emma hails from Scotland (but would love to see Tokyo). Outside of Mount Hall, you may find her sipping tea at Zen Cha or noshing on comfort food at Tip Top.
Q: What is your role at the university? My official title is Support and Training Analyst. I support our faculty, staff and students when they use CarmenCanvas, CarmenConnect, Mediasite, U.OSU, Secured Media Library and more.
Q: How long have you worked at Ohio State? It will be two wonderful years this August!
Q: Have you worked on any large projects since you've been here? I was hired to help support the transition to Canvas from D2L as the Learning Management System behind Carmen. We transitioned in about a year and most institutions take 3 or more. It was kind of a big deal.
Q: What do you like best about your job? It is a little corny but the answer is helping people. Technology can be intimidating and confusing, but any day I can do something to help a busy instructor or a stressed out student is a good day.
Q. How do you create and innovate? Troubleshooting can be surprisingly creative. I love trying to come up with creative solutions to the problems and limitations we face.
Q. How did your career path bring you to work for us? I worked at Columbus State Community College in a similar role and was very happy to find my current position.
Q: What was your very first job? Butterer of rolls and cleaner of tables at a greasy spoon.  
Q: Where are you from originally? Sunny Glasgow, Scotland
Q: Where did you go to college? University of Stirling
Q: What is your favorite place to visit? I'm a city girl so any big city or my home town, Glasgow.
Q: If you could travel anywhere in the world, where would you go and why? Tokyo because the culture there is super fascinating.
Q. What do you do for fun outside of work? Do you have any hobbies? I love yoga, running and lifting weights.
Q: Favorite place to eat in Columbus? When I'm in the mood for comfort food, I always head to Tip Top. For afternoon tea, I love Zen Cha in the Short North.
Q: Favorite quote? "Art is fire plus algebra."  - Jorge Luis Borges
Q: It's 9 p.m. on a Saturday. What are you doing? Thinking about my bed.