Employee Spotlight
March 2018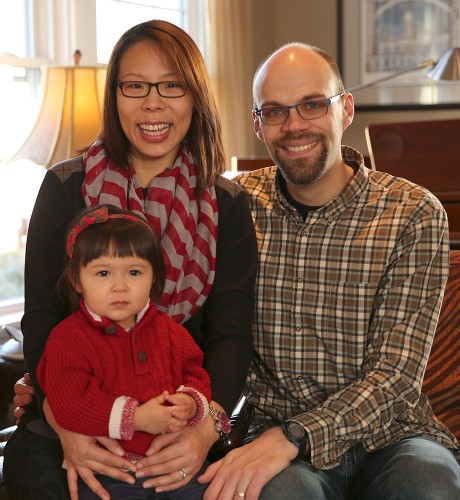 Host Master, Network Engineer
Meet Dan Watkins, an Ohio State grad who found his way to the OCIO to fulfill his dream of being in college forever. Networking was his favorite class, so becoming a Network Engineer was written in the stars. This Master of the Host is doling out the charm, finding out how things work and learning nonstop. When he's not in TNC, you may find him hanging out with his kids, learning Chinese or trekking through New Zealand in search of the next top desktop background.
Q: What is your role at the university? Host Master (not as fancy as it sounds), and Network Engineer for OCIO.
Q: How long have you worked at Ohio State? I've worked at Ohio State for a little over 9 years, professionally, and about 3 years as a student.
Q: What do you like best about your job? I like getting to know people all over campus, solving problems and learning, learning, learning along the way.
Q: Did you always know this is what you wanted to do as a career? I have always wanted to know how things work, and Networking was one of my favorite classes in college (at Ohio State!), so this is a natural fit! The only competitor might be a theoretical physicist or physics researcher. IT is a more employable field right now. :)
Q. Why did you choose to work at Ohio State? I love the atmosphere, stability, closeness to home, benefits, people and mission of Ohio State. I also have this closet desire to be a college student my whole life, but that one is getting harder to realize by the day…
Q: Where are you from originally? Columbus, OH (Clintonville) – born and raised!
Q: If you could travel anywhere in the world, where would you go and why? New Zealand. Many of the most captivating pictures I see on computer wallpaper and screensaver sites are from New Zealand. That is where Lord of the Rings was filmed because of its diversity and variety in landscapes, and I have never been to that corner of the world yet!
Q. What do you do for fun outside of work? Do you have any hobbies? Hobbies… that sounds vaguely familiar. You mean those things I used to do before having kids?
Q. What kinds of things are you passionate about outside of work? I am very active in a home-group-based Bible study. I read the Bible regularly and love getting to know my creator through what He wrote to us and experiencing what He made (nature). I am also trying to learn Chinese so my Taiwanese wife and I can raise our kids bilingual (tougher than it sounds!). I love listening to and making music, tech/gadgets, chess, and spending time with family, among many other things.
Q: Favorite quote? "There is a thin line between genius and insanity, which is only measured by success." - Bruce Feirstein
Q: Do you have a favorite book or movie? Book: Bible. Movie: Memento.
Q: It's 9 p.m. on a Saturday. What are you doing? Probably just transitioning from putting my kids down to cleaning the house or (if I am lucky) watching a movie with my wife.