Employee Spotlight
May 2020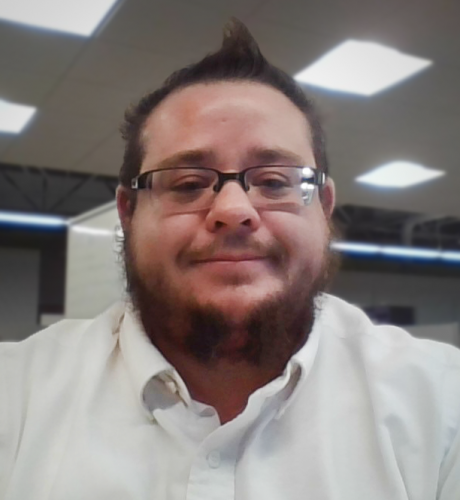 Online Education Data Specialist
Meet Ansel, a data miner searching for golden insight to help our students and programs be more successful. This former chainsaw wielder from Arizona stumbled into data analytics, and family in Ohio brought him to Ohio State. Ansel can't wait to get back to hiking, fishing and camping with his family, although being trapped inside with a good book isn't so bad for this librarian-wannabe.
Q: What is your role at the university? ODEE Data Specialist
Q: How long have you worked at Ohio State? I have been at Ohio State for 8 years and about a 1 ½ years with ODEE.
Q: Have you worked on any large projects since you've been here? I've worked on UITL dashboards and moving all ODEE reports to Tableau Dashboards.
Q: What does a typical day look like for you? My typical day usually involves mining, cleansing and visualizing data. Currently, I am working on creating some Finance dashboards, US News and World Reports Online Program rankings along with regular reporting.
Q: What do you like best about your job? I enjoy the mystery of figuring out different stories to be told by data and providing insights that assist students and programs to be successful.
Q. How do you create and innovate? I often create through the storytelling of data to assist in understanding the needs of students and how to make them successful along with building our online programs to be successful. The innovation really comes through the use of the data to implement, change and enhance programs and courses to pivot students to a pathway of success.
Q: Did you always know this is what you wanted to do as a career? No! I fell into data analytics totally by accident. My dream job as a child was to grow up and be a librarian. I have always loved the lure of a good book and was always reading a book.
Q. How did your career path bring you to work for us? My last position at Ohio State was working in Institutional Research and Planning. I often was able to assist ODEE with several data needs and was impressed with the department's mission statement. When the position opened I applied and was the successful candidate!
Q. Why did you choose to work at Ohio State? I lived with my grandparents in Granville for a large part of my childhood and when it came time to return to Ohio to care for them, I knew that Ohio State was the place for me because my personal mission statement aligns with the mission of Ohio State.
Q. Of what are you most proud? Currently, I am quite proud of a couple of dashboards that I have created that bring multiple internal and external data sets together, and they are used for making many decisions across the university.
Q: What was your very first job? My first job was a wildland fire firefighter as a sawyer – I used a 60in chainsaw to cut trees for creating fire lines.
Q: Where did you go to college? Northern Arizona University and Prescott College
Q: Where are you from originally? Flagstaff, AZ
Q: What is your favorite place to visit? Toroweap and Fire Point Overlooks both are pretty cool places to visit, along with any other national park, monument or forest.
Q: If you could travel anywhere in the world, where would you go and why? I would love to take a trek through all the Mayan and Aztec ruins since my graduate work is in MesoAmerican religions.
Q: Can you tell us about your family? I am getting ready to celebrate my 20-year anniversary with my wife, Renee. We have a 17-year-old, Lillian, a 5-year-old, Jasper and a 3-year-old, Oliver. We have also recently gotten custody of our 4-year-old niece, Serenity. We have 2 dogs, Gromit and Aonghus along with 3 cats: Rosie, Oscar and Mosi Hozho.
Q. What do you do for fun outside of work? Do you have any hobbies? We enjoy hiking, fishing and camping. My hobbies besides playing with kids are reading, woodworking, yard care, trains and writing.
Q. What kinds of things are you passionate about outside of work? My biggest passion is advocating for changes due to climate change, animal rights and tending nature.
Q: Favorite place to eat in Columbus? Café Istanbul of Bexley
Q: Best concert you've ever been to? I take my wife to a concert every year to see the Indigo Girls and a few years back we went to one that had Mary Chapin-Carpenter and Joan Boaz. This was hands down the best concert—to see Joan Boaz live was great.
Q: Favorite quote? "The acorn does not fall far from the oak tree." -Ansel Oakleaf
I call my kids my little acorns and being an Oakleaf, they come from an oak tree.
Q: Do you have a favorite book or movie? I have two favorite authors – Phillip Pullman and Kurt Vonnegut. As a teen I became enthralled and had to read everything by Kurt Vonnegut. As an adult I came across Phillip Pullman who wrote the Golden Compass series and the Sally Lockheart series. Pullman is great at writing strong and authentic female characters.
Q: It's 9 p.m. on a Saturday. What are you doing? 9 P.M. Saturday – the kids are all asleep, we have a glass of wine and are watching a show, playing cards or talking.
Q: Give three adjectives that best describe yourself. Easy-going, Introverted, Funny