Employee Spotlight
February 2018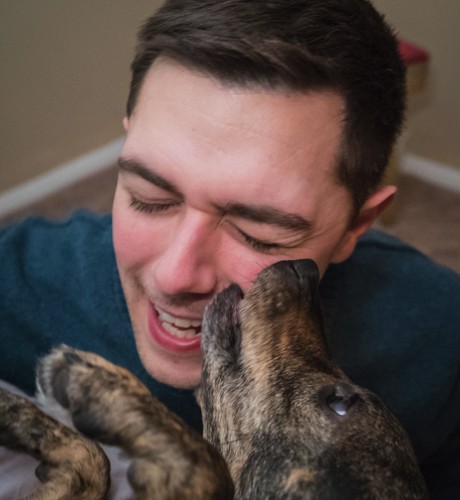 Senior Access Management Administrator
Meet Aaron Bagent, a Senior Access Management Administrator, currently working on the Enterprise Project. On a typical day, you'll find him resetting passwords, granting access to systems and tinkering to learn how new systems work. Outside the office, you may find him experimenting with ingredients to craft unique cocktails or breezing through a crossword puzzle at a local coffee shop.
Q: What is your role at the university? I am a Senior Access Management Administrator.
Q: How long have you worked at Ohio State? I've been here about four and a half years.
Q: Have you worked on any large projects since you've been here? I helped out in an access management capacity with both the OnBase and eSignature go-lives a few years back.
Q: What are you currently working on? Right now, I'm the Access Management Lead on the Enterprise Project. There are a lot of password resets and access granting and removing involved. There are also times when I need to poke around in Workday and see how to meet a particular security control. Those times are my favorite!
Q: What do you like best about your job? Being in Access Management means you're frequently learning the ins and outs of different systems. Tinkering with new systems and discovering how they work is really enjoyable for me.
Q: Did you always know this is what you wanted to do as a career? Nope! Computers weren't even on my radar when I was a kid. I did have a love for the sciences, though. I waffled between wanting to be an astronomer, a zoologist and a veterinarian.
Q: What was your very first job? I was a student worker in the admissions office of the college I originally went to, Wheeling Jesuit University.
Q: Where did you go to college? I started off at Wheeling Jesuit University and then transferred to Ohio State.
Q: Where are you from originally? I grew up in a couple of small towns just south of Steubenville, Ohio.
Q: What is your favorite place to visit? Stauf's in Grandview. I used to love to go there every Friday night and work on a crossword puzzle from the previous week's New York Times Sunday edition.
Q: If you could travel anywhere in the world, where would you go and why? I'd love to return to South Korea one day. The people there are so kind and the sights, from the landscape down to a simple street sign, are so very different from here.
Q: Can you tell us about your family? It's just my partner, our dog Audre, and myself. We adopted Audre, a four-year-old dachshund mix, from a rescue about a year ago.
Q. What do you do for fun outside of work? Do you have any hobbies? I'm a big fan of both video and board games. For me, video games are a solo activity that help me wind down while board games are a social activity that gives you a fun excuse to bring all of your friends together.
I also love the idea of mixology and putting cocktails together for others. Similar to cooking or baking, there's something about combining a couple of ingredients to make something entirely new that I really enjoy.
Q: What is something most people might be surprised to know about you? I've been playing piano off and on for over twenty years—and I'm not half bad for an amateur.
Q: Favorite place to eat in Columbus? That's a tough one because Columbus has so many great restaurants. Probably Spagio for brunch, Barcelona for something fancy, Double Comfort if I'm craving fried chicken or, if I want a quick meal, City BBQ always hits the spot.
Q: Best concert you've ever been to? A few years back, I saw Tycho at Ace of Cups. The concert didn't wrap up until 1am but it was amazing!
Q: Do you have a favorite book or movie? My favorite book is Jonathan Strange and Mr. Norrell by Susanna Clarke. I've read it several times over.